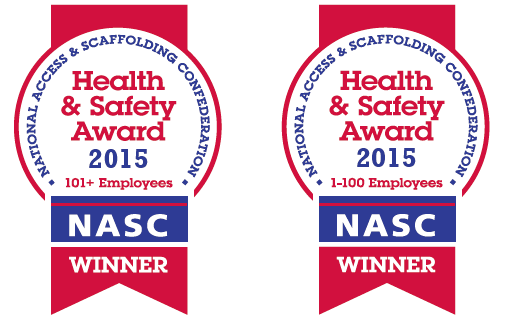 10.12.15
2015 NASC Biennial Health & Safety Award Winners Revealed at AGM
The NASC's biennial Health & Safety Awards winners have been announced at the confederation's AGM in Leeds on Friday November 27th.
In a fully-loaded 2015 AGM agenda – which included the launch of the updated SG4:15 Safety Guidance, Apprentice of the Year Awards and the swearing in of a new President, Alan Lilley (Commercial Scaffolding Ltd) – the NASC 2015 Health and Safety Award winners and runners-up were unveiled and presented with trophies and certificates.
Winners in the larger company (101+ employees) category were Interserve Industrial Services, with Wood Group Industrial Services Ltd 'Highly Commended' runners-up. And Denholm Industrial Services took the award in the smaller company (1-100 employees) category, with Connect Scaffolding Ltd 'Highly Commended' runners-up.
In addition to the winners being presented with a trophy and a certificate at the AGM by new President Alan Lilley, the companies are also entitled to use a bespoke NASC 2015 Health and Safety Award (Winners or Highly Commended) logo on their corporate literature and company website, for a period of two years.
Ken Johnson, responsible for NASC Health & Safety and Technical support said: "Judging highlighted many special features among the shortlisted applicants, all of whom had excellent submissions. The health & safety standard set by NASC members is exceptional. However, these companies have demonstrated an extra level of commitment – hence this prestigious award in recognition of their dedication."
NASC Managing Director, Robin James added: "Congratulations to winners Interserve Industrial Services and Denholm Industrial Services, and to runners up in both categories, Wood Group Industrial Services and Connect Scaffolding Ltd. And many thanks to all those companies who participated, and of course to the judges. The standard of entries was extremely high and the event is now well-established in the NASC calendar, with a real incentive now being the ability to carry the NASC H&S Award Winners or Highly Commended branding on their company literature, website and vehicles."
For details about becoming an NASC member and to find out more about the latest SG4:15 'Preventing Falls in Scaffolding Operations' Safety Guidance notes, the TG20:13 full suite and the NASC – the UK scaffolding industry trade body – please visit www.nasc.org.uk or email: enquiries@nasc.org.uk.
And for more details on CISRS training, including a list of current providers, please visit: www.cisrs.org.uk