It is a great privilege for me to take on the presidency of the NASC and another significant milestone in my career to date, writes Des Moore, CEO of TRAD Group and new NASC President.
I'd like to thank my predecessor, Alan Lilley of Commercial Scaffolding Ltd, who led the NASC through two challenging years. During his tenure, he guided us through a successful restructure of the articles of association and oversaw a highly effective project to increase membership. I'd also like to acknowledge the efforts of Kevin Ward of Scaffold Erection Services Ltd, who stood down as Non-Exec Director in 2017 after six years.
I have four key objectives of my Presidency, all of which are focused on inclusivity. The first is to promote internal opportunities for management careers for all people involved in our separate businesses, as well as for those who lack formal academic qualifications.
This is an issue close to my heart as I left school at 14 with no qualifications. To this day, I have only two; an Advanced Scaffolder's Card gained in 1979 and a certificate for attending a supervisors' course in 1991.
I rose through the ranks because others gave me the opportunity and I urge you to do the same. We need to mentor more of our staff to help them progress into management and support roles, even if they have little to show from their time in school, even if they can't read and write. It's what they know and what they can do that matters.
Secondly, I want to promote the role of women in our industry. Women are sorely under-represented across the whole construction sector and even more so within scaffolding.
Overall, we need more women in management and supervisory roles, and to represent us here on NASC committees as well as on the NASC Council. Why? Not simply for fairness, but because it's good business.
Women bring different skills, perspectives, ideas and invaluable social skills. I'm delighted to say we're making significant progress. This year, for the first time in our 73-year history, we will have a female director, Lynn Way, who chairs the NASC South West and South Wales Region.
The third objective is to ensure we strike the right balance between the needs of large and small companies and the regions in which they operate. Long ago, the NASC was seen by some as an exclusive club for the big boys, promoting only their interests. Those days are long gone.
Now, of our 250+ members, more than 70 per cent have a turnover of less than £5m. We should be proud that their voices are being heard, and that they have a strong influence over policy but we must be careful not to neglect the larger companies either.
Finally, I would like to increase the pre-requisite for use of NASC members in tender documents. Achieving this objective will further increase the positive influence which the Confederation has on the industry, and assist with promoting and achieving core aims, the most important of which is a safer industry.
I aim to be a 'hands-on', active and accessible NASC president. I hope you will help me to promote diversity in our industry and create mentoring programmes.
One of the best ways to face tough economic conditions is to draw upon the resources, ideas, talents and contributions from as wide a group of people as possible – which our industry has in abundance.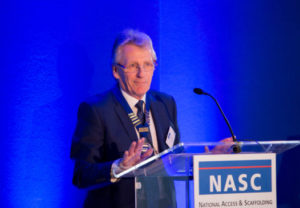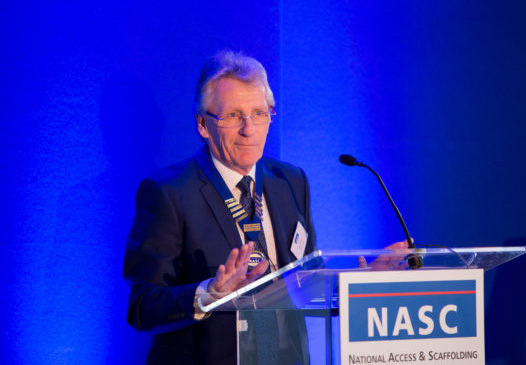 Des Moore
NASC President
November 2017