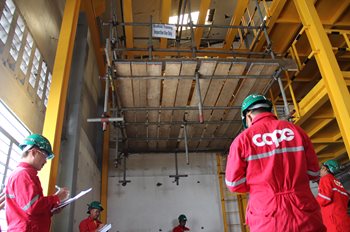 23.06.14
CAPE Gain CISRS OSTS accreditation
Cape Asia Academy in Muntinlupa City, Philippines has been awarded accreditation to run the Construction Industry Scaffolder's Record Scheme (CISRS) Overseas Scaffolder Training Scheme (OSTS) at its centre.
Cape were the very first overseas centre to be awarded CISRS accreditation over seven years ago. They had initially run courses based upon the current UK scheme, however with CISRS launching OSTS in 2013 they will now be transferring to the overseas programme in order to come in line with other non-UK CISRS providers.
The OSTS course is based upon the same principles as the UK scheme; these being training, on site experience and assessment with the complexity of the structures covered increasing as delegate's progress from Level 1 to Level 4. The OSTS course programmes are structured slightly differently to the UK Scheme however content and training exercises covered are very similar. The training will be carried out to UK best practice and industry guidance, but will also incorporate local legislation from the region.
Since opening in 2007, Cape have put around 700 of their employees through various CISRS courses including Pt1, Pt2, Basic Scaffold Inspection etc. A mapping exercise has been carried out in order to evaluate the level of training that has been completed under the previous CISRS programme compared to the OSTS scheme in order to allow for the correct CISRS OSTS cards to be issued to each operative. The Cape Asia Academy will become the first overseas centre to run Level 3 and Level 4 OSTS courses. Level 4 OSTS training is a 10 Day course and is comparable to the UK Advanced Scaffolder qualification.
Although there is not a requirement for overseas delegates to attend the CISRS Operative Training Scheme (COTS), Cape have made the decision to include it within the suite of CISRS courses that they offer. This will be used as induction training for their new starters and also for operatives that are employed as multi discipline labour e.g. Painters and Laggers, those who then show an aptitude for Scaffolding may be eligible to attend the Level 1 OSTS course when they have gained sufficient site experience.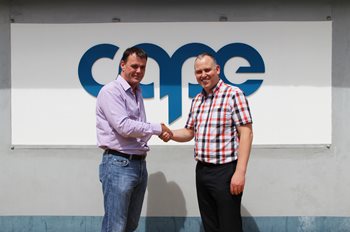 Mike Harding, Director (Philippines, Thailand, Myanmar, Vietnam, and PNG) stated: "We have always been big supporters of the CISRS scheme and we feel that training our operatives to these standards has given us the edge over our competitors within the region. Moving over to the OSTS scheme will allow us retain the quality and rigour of the UK scheme whilst the shorter duration training modules will help us operationally and logistically when programming courses for scaffolders who are working all over the world and are often away for considerable periods of time."
Cape's commitment to CISRS is reflected in the high quality of their training facility: A purpose built steel structure was introduced in 2013 in order to accommodate Advanced Scaffold exercises such as Suspended Scaffolds Cantilever Drops etc. and all of the theory tests within the CISRS courses are completed on line with computers and work stations available for each delegate.
During the recent CISRS audit visit, Cape also gained accreditation to run the Advanced Scaffold Inspection Training Scheme (SITS) courses with their Instructional staff Orlando Driz and Pedro Andres Jnr attending the first course. The Centre and Staff at Cape Asia Academy continue to move onwards and upwards.
For further details about all CISRS overseas accredited training centres, tube and fitting and system scaffolding CISRS courses, or for information about any of the scaffolding training courses on offer, please visit www.cisrs.org.uk or email enquiries@cisrs.org.uk.