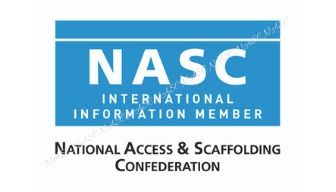 NASC Launches International Information Membership
The NASC has launched an international information membership category in response to growing demand from companies based overseas to align with the confederation.
The new category is open to any non-contracting scaffolding industry organisation trading outside of the UK. This includes training providers, health and safety consultants, scaffold designers, insurers and other service providers to the access and scaffolding industry.
Robin James, NASC Managing Director, said: "In recent years we have found that more and more businesses involved in the scaffolding industry overseas have been looking to forge closer relationships with the NASC and enjoy the wide range of benefits already afforded to their UK-based counterparts through the NASC Information Membership.
"We are delighted to address this demand and look forward to welcoming international information members from across the globe into the NASC fold."
NASC international information membership confers the following benefits:
Circulation of relevant NASC literature
Up to 50% discount on NASC publications
Opportunity to attend events such as the NASC AGM, Annual Ball and Awards
NASC international information membership certificate
Advertising opportunities within NASC publications
Promotional opportunities at trade events/exhibitions
Sponsorship and advertising opportunities at NASC events
Inclusion of company details in NASC publications e.g. NASC Yearbook
Inclusion of company details on the NASC website
Attendance at NASC meetings (by agreement)
NASC international information membership subscription is £800 plus VAT per calendar year.
For more information click here.