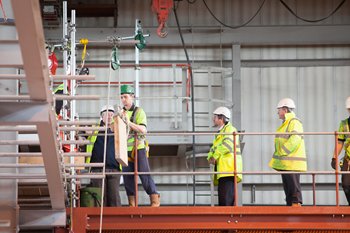 TG20:13 – revised CISRS Scaffold inspection training scheme (SITS)
CISRS are in the process of revising the Scaffold Inspection Training Scheme (SITS) – in view of the imminent publication of the NASC's TG20:13 Technical Guidance for tube and fitting scaffolding (TG20).
Training expert, Simon Hughes of Simian Skills Ltd has been drafted in by CISRS to review the CISRS SITS courses and add the necessary detail to both the Basic and Advanced SITS courses, specifically in relation to the new TG20 guidelines. And Mr Hughes is also working closely with CISRS to produce a new 'What has changed in TG20' guidance document, to update and assist all CISRS training.
Following the introduction of TG20:13, the decision has been made to add an extra day to the Basic SITS course, making it three days in duration. This is to accommodate the extra detail and structures included within the new TG20:13 guidance.
Work is nearing completion and the new courses should be available to CISRS approved providers by the end of February/early March, in order to give them a chance to familiarise themselves with the new format. The new SITS courses will go live from March 31st, with the new three day Basic SITS course becoming mandatory from 30th June 2014.
Those who have already pre-booked a CISRS two-day course with an approved provider prior to the 30th June 2014 cut-off date will still be allowed to attend the course and will be eligible to apply for a CISRS Basic Inspection card upon completion. Alternatively, CISRS recommends that clients contact their provider to rearrange to attend the new three day course (NB: there may be an additional fee for doing so).
The Advanced SITS will not be affected as much by the introduction of TG20:13, as it covers more complex designs which are not included within the scope of the new NASC Technical Guidelines, but some minor revisions are underway to accommodate changes caused by TG20:13.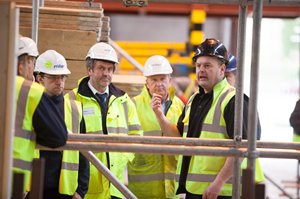 Scheme Manager, Dave Mosley said: "The introduction of TG20:13 will have a profound effect on the industry and will affect all CISRS courses. It has become evident that we require an additional day to be added to the Basic SITS course, to accommodate all the changes.
"CISRS believe that the Basic SITS course is the essential foundation for anyone looking to inspect scaffolds. As such, it is imperative that the course covers the relevant topics in the appropriate depth – hence the revisions.
"The decision to increase the course duration to three days has not been taken lightly – and we realise this will have an effect on planned training programmes for 2014. However, we feel that the additional content is correct and relevant and therefore the extra day is required.
"One of the criticisms levelled at inspection training (and which has been a bugbear of the industry since the inception of inspection courses) is that 'someone with very little knowledge of the industry can attend a two day course then go out and inspect scaffolding.' CISRS are constantly striving to alter that opinion, through better training.
"CISRS previously adopted the two day duration as that was the industry norm. However, we felt it was always something that may need to be revisited at some point – and the publication of TG20:13 has made it apparent that the information which needs to be passed onto an individual attending a Basic inspection course cannot be imparted within two days.
"Additionally, all individuals involved in scaffold inspection – regardless of whether they have attended a CISRS two or three day course – will need to ensure that they obtain a copy of the new TG20:13 suite of documents and become fully conversant with its contents."
For further details about the new SITS courses and changes following the introduction of TG20:13, information and dates on courses available or to find out about CISRS, please visit www.cisrs.org.uk or email enquiries@cisrs.org.uk. And to obtain a copy of TG20, please visit www.nasc.org.uk.