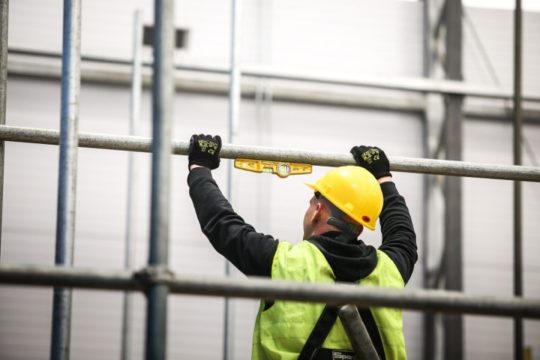 12.07.18
Consider Safety at Procurement Stage
By Stephen Allen-Tidy, NASC Health and Safety Advisor
One of the main aims of the National Access & Scaffolding Confederation (NASC) is to promote high standards of safety within the industry.
We achieve this in part through the production and dissemination of a wide range of industry-recognised safety and technical guidance, created to support the needs of scaffolding contractors, their operatives and clients.
It's clear that the scaffolding industry is safer than ever, something that is evidenced in our annual NASC Safety Report. The 2018 edition showed accidents and injuries recorded by NASC members fell to an all-time low in 2017, with just 89 incidents occurring on-site throughout the year.
It also revealed that there were 14 falls from height recorded by NASC full contracting members – representing more than 16,000 scaffolding operatives across the UK, and while this marks a 46% reduction year-on-year we'd like to see this reach 0.
To further reduce the number of falls from height, we will continue to promote best practice to scaffolding contractors and their operatives, ensuring they are working safely on site day-to-day.
We're also keen to encourage more clients to go a step further from their day-to-day safety obligations and consider safety at the procurement stage – something they are required to do under Construction Design and Management (CDM) Regulations 2015 and the Working at Height Regulations (WAHR) 2005.
Under CDM 2015, the client – project manager, contracts manager, facilities manager or anyone who engages with a scaffolding or other construction contractor – must draw up a brief that sets out what the works will entail and provide any necessary safety-related information such as asbestos registers, access to working at height areas and confined spaces.
The WAHR 2005 places the onus on principal contractors to appoint contractors that are sufficiently skilled, knowledgeable, trained and experienced to carry out the required work.
The NASC has created a Scaffold Specification Template that makes the management and procurement of scaffolding contractors simple.
Clients that use this easy-to-use document will save themselves time and protect themselves against the threat of prosecution in the event of an on-site incident. They will also play their part in reducing falls from height by ensuring only contractors that have proven skills and experience to win the contract get on site.
It's this preliminary safety step that can help to further reduce the number of falls from height.