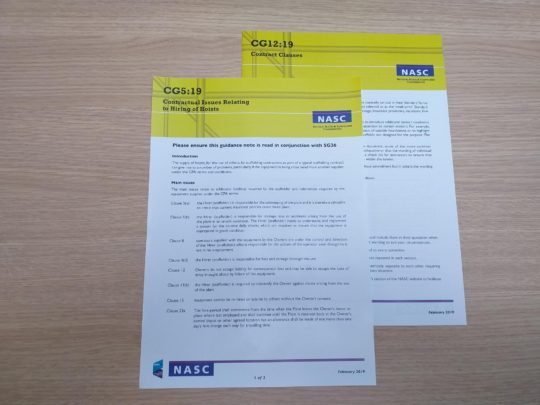 Contractual Guidance Notes Updated
Contractual guidance notes focused on the hiring of hoists and contract clauses have been updated and amended.
CG5:19 Contractual Issues Relating to the Hiring of Hoists and CG12:19 Contract Clauses were reviewed and amended by the NASC Contracts Committee as part of the NASC's ongoing efforts to ensure all reference materials remain up-to-date and fit-for-purpose.
They are all available for purchase via the NASC online shop here.
A new guidance note – CG20:19 A Guide to Monitoring and Chasing Debt – is currently being finalised and will be published in the summer. As the title suggests, the 12-page document provides assistance with the control and collection of debts.
David Brown, Chair of the NASC Contracts Committee, said: "By updating CG5:19 and introducing the new guidance note CG20:19 we believe that we are providing our members with high quality guidance that will assist them in their day to day activities."
Robin James, NASC Managing Director, added: "We are pleased to have updated two further CG notes and adding another commercially beneficial title in the coming months.
"The confederation looks to review all published materials every five years, bringing them up to date with legislation and the evolving requirement of scaffolding contractors as required."