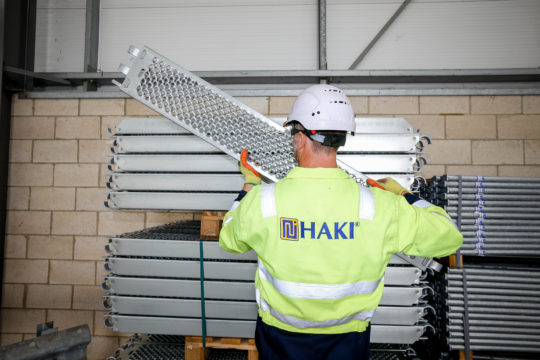 HAKI Adds COTS Course to Training Programme
HAKI Ltd, an NASC full non-contracting member, has unveiled plans to deliver the one-day CISRS Operative Training Scheme (COTS) – a move that will help bring more scaffolders into the industry.
The system scaffolding and temporary access provider will run the COTS course, accredited by CISRS, at its Milton Keynes training centre from next month.
The course covers the basics of the industry and how to work safely with scaffolding and access equipment.
HAKI technician and trainer, Chris Partridge said: "The addition of the COTS course to our training portfolio is just another example of HAKI's dedication to providing safe working conditions, by helping train scaffolders to high standards at an early stage of their career.
"It's also great that we can help get more people working in the scaffolding industry by delivering entry-level courses, like COTS, too."
Dave Mosley, CISRS Managing Director, added: "We are always looking to get more people into the sector. HAKI has an excellent facility in Milton Keynes and we are very pleased that they will now be utilising it to offer COTS training."
For more information or bookings, please visit www.haki.com or call 01908 580420.