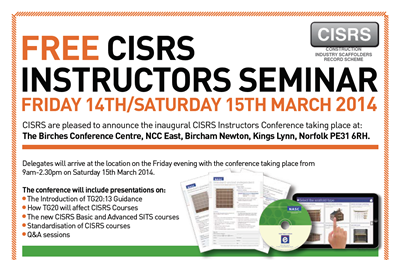 Inaugural CISRS instructors conference
CISRS will be running an inaugural Instructors Conference this weekend, at the historic NCC East Training Centre at Bircham Newton, near King's Lynn in Norfolk. NCC East was the very first scaffolding training centre to be given CISRS accredatation over 40 years ago.
More than 40 delegates invited from the UK's top 27 training centres have signed up to this new event, which takes place on Friday 14th and Saturday 15th March.
The free-of-charge conference hosted by CISRS aims to update the UK's top scaffolding and access instructors and approved providers on:
Current changes to CISRS training and course standardisation.
The introduction of the NASC's new TG20:13 tube and fitting technical guidelines.
How TG20:13 will alter training and affect courses.
The new CISRS Basic and Advanced SITS courses
Headlining the conference seminar are two guest speakers: TG20:13 technical authors and software specialists, CADS – with Terry Roberts giving a presentation and taking questions on the new NASC guidance – and Simon Hughes of Simian Skills, who will be discussing the impact of TG20:13 on training providers. Finally, CISRS Scheme Manager, Dave Mosley will chair a discussion on improving standardisation of CISRS training across all providers. An open Q&A session will follow the presentations.
CISRS Scheme Manager, Dave Mosley said: "We have talked about an instructor conference for some time and we are really pleased to finally have the first one set up. We are hoping it will be a very positive step for all concerned – as it will be a great opportunity for those at the front line of delivery to sit down together with the scheme management and offer opinions or suggestions for improvement within the scheme, share good practice with other providers and obtain feedback from the delegates. We are hoping that this conference will be the first of what is to become an annual event. I'm sure that there will be some interesting debate and hope that it will prove to be beneficial to all attending.
"The introduction of TG20:13 will have a profound effect on the industry and will affect all CISRS courses. We want to help make the integration of TG20:13 as smooth as possible from a training perspective, hence the desire to run this conference – to get instructors up to speed quickly on the changes to scaffolding training. We are confident it will prove to be a useful exercise for all. It is very fitting to be holding the inaugural event at the UK's first CISRS scaffolding training centre, which is still one of the largest construction training centres in Europe"
CADS' Terry Roberts added: "We are hoping to give the CISRS training instructors a clear understanding of the new TG20:13 documents, so that they can be confident they are passing on all of the relevant information to the new course delegates."
For further details about the new CISRS SITS courses and training changes following the introduction of TG20:13, information and dates on courses available or to find out more about CISRS, please visit www.cisrs.org.uk or email enquiries@cisrs.org.uk. To obtain a copy of TG20:13, please visit www.nasc.org.uk/tg20_13.