Total Number of new apprentices registered: 553
Click here to see a list of all members and details of how many new apprentices each company have registered to date.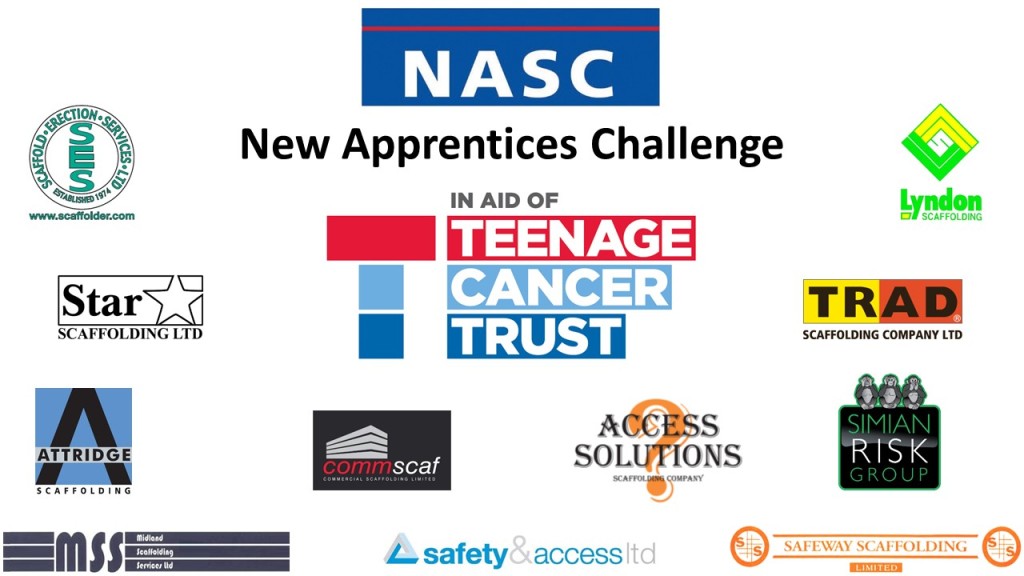 The outgoing NASC President, Kevin Ward's 'New Apprenticeship Challenge' to create 400 scaffolding apprentices in his two year tenure has been surpassed – with 553 new apprentices created by NASC member companies. And the initiative has also raised £58,057 for Teenage Cancer Trust.
This is great news for both the scaffolding industry and the TCT, and was announced at the confederation's annual ball at the Queen's Hotel in Leeds on Friday 27th November – two years on from the New Apprentices Challenge launch, following Mr Ward's inauguration as President in November 2013.
Mr Ward, who was once a scaffolding apprentice himself, said: "When I took on the role of NASC President, I challenged the members to achieve a couple fantastic goals during my two-year term – to create a minimum of 400 new CISRS apprenticeships and raise much needed funds for Teenage Cancer Trust. And I am very pleased to report that we have not only succeed in reaching the 400 target, but actually surpassed it, creating 553 new apprentices, and raised over £58,000 for TCT.
"I would like to thank all NASC member companies who took part in the challenge. They have not only given these enthusiastic young people a great career opportunity in the scaffolding industry, but in the process have invested in the future of their businesses. And special mention must go to NASC member companies, Seabro, Interserve Industrial Services and Connect Scaffolding, who created 92 apprentices between them.
"I'd also like to thank all NASC members who have donated money to this worthy cause (TCT), with additional thanks to the member companies who stepped in and directly sponsored the charitable side of the challenge."
NASC Managing Director, Robin James said: "We are very pleased by the response to the NASC's New Apprenticeship Challenge. The creation of so many new apprenticeships in just two years – boosting the scaffolding industry and raising money for a great charity simultaneously – is an absolutely superb achievement and a lasting legacy of Mr Ward's presidency."
NASC Training Manager and CISRS Scheme Manager, Dave Mosley added: "What an excellent achievement. It shows the commitment of the membership in relation to employing apprentices, whilst helping a very worthy cause at the same time. This really is a 'good news' story – particularly when the future of employer funding for apprenticeships is looking uncertain. It's great to be able to support such a positive initiative."
Michelle Aucott, Regional Fundraising Manager for Teenage Cancer Trust, West Midlands said: "We are delighted to have the support of NASC and its members. The money raised from the New Apprentices Challenge will help to support young people with cancer, so they don't have to face their diagnosis alone."
To find out more about the Teenage Cancer Trust please click here