NASC has been a great supporter of scaffolder training since its very earliest days and was instrumental in the development of the original training programmes delivered by National Construction College (NCC), Bircham Newton in the late 1960's and the subsequent introduction of the CISRS scheme in 1979.
With strict membership criteria relating to maintaining a carded and qualified work force each member is required to have a minimum of 90% CISRS carded operatives with at least 50% of those qualified to Scaffolder or Advanced level.
NASC has been the proud sponsor of the annual NCC Year 1 and Year 2 Scaffolding Apprentice Awards for over 20 years with many winners coming from within the membership. The Confederation puts over 250 trainees through the apprenticeship programme each year.
Access and Scaffolding Industry Training Organisation (ASITO)
NASC provides the chair, committee members and secretarial support for Access and Scaffolding Industry Training Organisation. Those invited to attend include both contracting and hire and sales companies, CITB, CISRS approved Training providers and Health and Safety consultants. The aim of the Group is to ensure that the sector training offered remains current and relevant and improves the skills, knowledge and safety of all involved with scaffolding.
The Construction Industry Scaffolders Record Scheme
The Construction Industry Scaffolders Record Scheme (CISRS) has been operating within the UK for over 40 years. It is the industry recognised qualification for those working within the scaffolding and access sector. The scheme offers a full range of practical and theoretical training and assessment courses aimed at Scaffolding Labourers, Trainees, Scaffolders, Advanced Scaffolders, Supervisors/Managers and Scaffolding Inspectors.
The scheme is based upon the principles of achieving qualification via formal off-site training, on site work experience, completion of S/NVQ Accessing Operations and Rigging (Construction), Practical Skills assessment and Health and Safety training/testing. Unlike many other trade schemes CISRS does not offer a "fast track" route to qualification. In order to maintain the integrity of the scheme, all delegates must meet all of the criteria laid out at the time of their registration and entry into the scheme.
Over the years CISRS has ensured the scheme remains current, valid and robust by seeking to incorporate relevant legislative or Technical and Health and Safety changes as they occur. It is this commitment to improvement that allows CISRS to retain its status as one of the most highly regarded trade qualification schemes within the industry.
For more information on CISRS including the location of your nearest CISRS Accredited Training Provider, please visit the CISRS website, www.cisrs.org.uk
The Full Suite of Available CISRS cards
CISRS Scaffolding Labourer

CISRS Trainee Scaffolder

CISRS Scaffolder

CISRS Advanced Scaffolder

CISRS System Scaffolder

CISRS System Scaffold Product Training (SSPTS) Scaffolder

CISRS Scaffolding Supervisor

CISRS Scaffold Inspector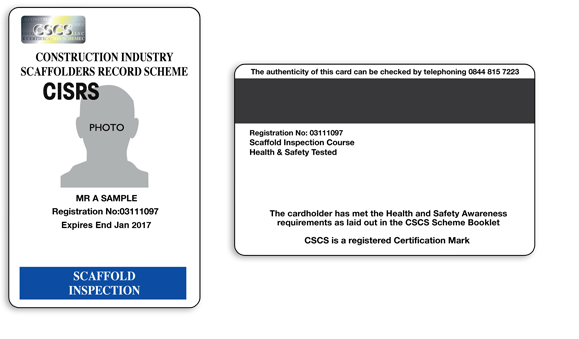 CISRS Advanced Scaffold Inspector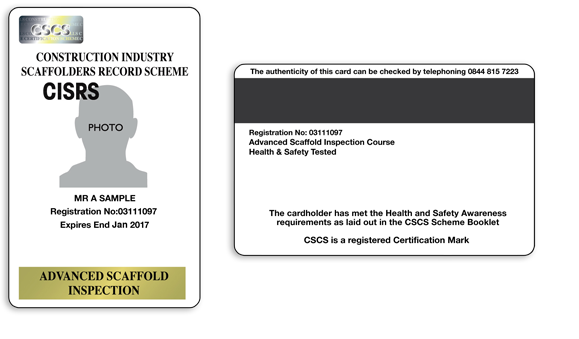 CISRS Basic Access Systems Erector