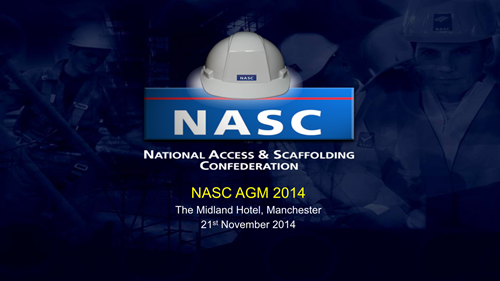 NASC 2014 Annual General Meeting
NASC President's New Apprentices Challenge up to 230 apprentice
£25,300 raised for Teenage Cancer Trust by member companies
Inaugural Apprentice of the Year Award winner: Josh Kerwin of Kaefer C&D Ltd
New look NASC 2015 Yearbook published
Strong sales of TG20:13 publications
The NASC's well-attended Annual General Meeting took place at the iconic Midland Hotel in Manchester city centre on Friday 21st November.
In a packed agenda, NASC MD Robin James reported on the recent publication of the new look NASC 2015 Yearbook, the sales success of the organisation's "good practice guide for tube and fitting," TG20:13, the publication of new and revised Safety and Technical guidance, Qualifying the Workforce Funding and the recent promotional work of the organisation at 2014 events, such as the Safety & Health Expo at London's ExCeL and Health & Safety North in Bolton.
In addition, Mr James provided a 2014 Annual Review with updates on the activities of the various standing committees. He said: "I would like to thank the standing committee members. They are the lifeblood and shop window of our organisation and are what helps to make us such a force within the scaffolding sector and wider construction industry."
NASC President, Kevin Ward then updated those present on his New Apprentices Challenge – the plan to create 400 new scaffolding apprenticeships during his two year tenure, simultaneously raising money for the Teenage Cancer Trust (TCT). Mr Ward informed the membership that 230 new apprentices have been created by NASC member companies since the scheme began 12 months ago. This equates to more than £25,300 being raised for TCT – at the half way point of the scheme.
Special mention was made of Seabro Ltd who are currently topping the New Apprentices Challenge league – with 16 new apprentices commencing training during this period. And credit was also given to other member companies in double figures, with Interserve Industrial Services Ltd on 14, Connect Scaffolding Ltd on 11 and B J Champion Scaffolding Ltd, Lyndon Scaffolding plc, TRAD Scaffolding Co Ltd and UK Access Solutions Ltd all with 10 new apprentices each.
Mr Ward said: "An amazing 230 new apprentices have been created by NASC member companies in 12 months. Well done to members! But we can't afford to be complacent."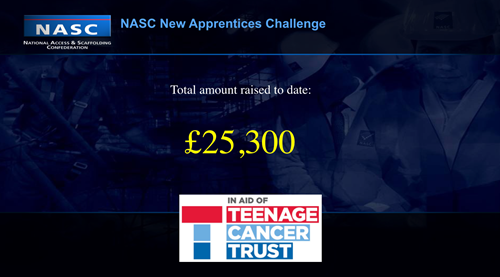 NASC Training Director and CISRS Manager, Dave Mosley added: "The apprenticeship scheme numbers are very positive for the industry, showing that the scaffolding sector is leading the way in apprenticeship training. We are confident the 400 goal will be surpassed by this time next year, with continued support from the membership."
Mr Mosley also announced the NASC's inaugural Apprentice of the Year Award winner – Josh Kerwin of Kaefer C&D Ltd – along with runners-up, Dean Fry (Chris Sedgeman Scaffolding Ltd) and Matt Wernham (Connect Scaffolding Ltd). It is expected that there will be no shortage of entries for the 2015 award, thanks to the New Apprentice Challenge.
In conclusion, NASC MD Mr James announced that the 2015 NASC AGM and Annual Ball will be held in Leeds.
For details about becoming an NASC member and to find out more about the New Apprentices Challenge, TG20:13 and the NASC – the scaffold industry trade body organisation – please visit www.nasc.org.uk or email: enquiries@nasc.org.uk.