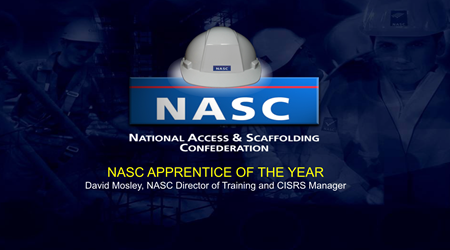 NASC 2014 Apprentice of the Year Announced
The NASC announced the results of its inaugural Apprentice of the Year Award at its Annual General Meeting in Manchester on Friday 21st November.
The new NASC Apprentice of the Year scheme – sponsored by both the Construction Industry Training Board (CITB) and Construction Industry Scaffolders Record Scheme (CISRS) – is aimed at individuals who are directly employed by an NASC Member company and are either part way through a formal scaffolding apprenticeship with an approved CISRS provider, or alternatively have successfully completed the apprenticeship programme in 2014.
The successful candidate needed to be conscientious, have shown a willingness to learn and develop skills and have gone above and beyond the call of duty whilst working their way through the qualification. The judge wanted to see evidence of someone who through hard work, personal development and a commitment to the industry would be viewed as a shining example to others looking to enter the scaffolding sector
The winner was selected by scheme judge and Scaffolding Specialist Account Co-ordinator for the Construction Industry Training Board (CITB), Diane Wood.
It was announced during the AGM, that the winner of the very first NASC Apprentice of the Year award was Josh Kerwin of Kaefer C&D Ltd in Mansfield.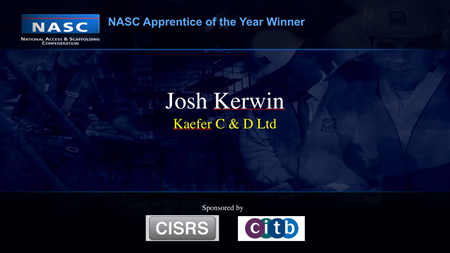 Josh will receive a trophy and a cash prize of £500, whilst the apprentice's employer Kaefer C&D Ltd. will also receive a trophy and £500 to be spent on CISRS training with an approved provider. These prizes will be officially presented by NASC Director of Training and CISRS Scheme Manager, Dave Mosley, at the workplace of the winner at a mutually convenient date.
A special mention was also given to the two runners-up for the 2014 award, Dean Fry of Chris Sedgeman Scaffolding Ltd and Matt Wernham of Connect Scaffolding Ltd, both of whom will also receive a trophy to recognise their efforts whilst working towards the achievement of their apprenticeships.
CITB's Diane Wood said: "Josh originally started as a yard lad in 2011. He then applied for a labourer's job and worked for a year labouring before moving into the Scaffold Division and starting an apprenticeship. He has not only overcome his own personal challenges of working away from home while so young, but has helped others – in particular another team member who was finding it difficult attending college and being away from home. Joshua's support enabled this person to continue at college.
"The testimonies stating the willingness he demonstrates in everything he does, his enthusiasm to progress but also having time to help his peers stood out in his application, but in particular the comment of his tutor "that he has a very positive impact on the group setting an excellent example to others and setting the standard for behaviour and respect" made him my choice for this new award."
Dave Mosley, NASC Director of Training and CISRS Scheme Manager said: "Congratulations to Josh for winning in this inaugural year and Dean and Matt as runners-up. NASC members have a very long history of supporting scaffolding apprenticeship, which spans over four decades: We have sponsored the Annual NCC Scaffolding Apprentice Awards for almost as long. We were very happy to accept the offer of CITB and CISRS to help us set up our own NASC Apprentice of the Year prize in order to recognise the hard work and commitment of both the employer and employee.
"The competition for next year's award should be particularly strong  thanks to the NASC President's New Apprenticeship Challenge, which has generated 230 new scaffolding apprenticeships since November 2013. It's all very positive for the industry, highlighting that the scaffolding sector is leading the way in apprentice training."
For details about becoming an NASC member, apprenticeships and to find out more about TG20:13 and the NASC – the scaffold industry trade body organisation – please visit www.nasc.org.uk or email: enquiries@nasc.org.uk. To obtain a copy of TG20:13, please visit www.nasc.org.uk/tg20_13. And for more details about CISRS training, including a list of current providers, please visit: www.cisrs.org.uk