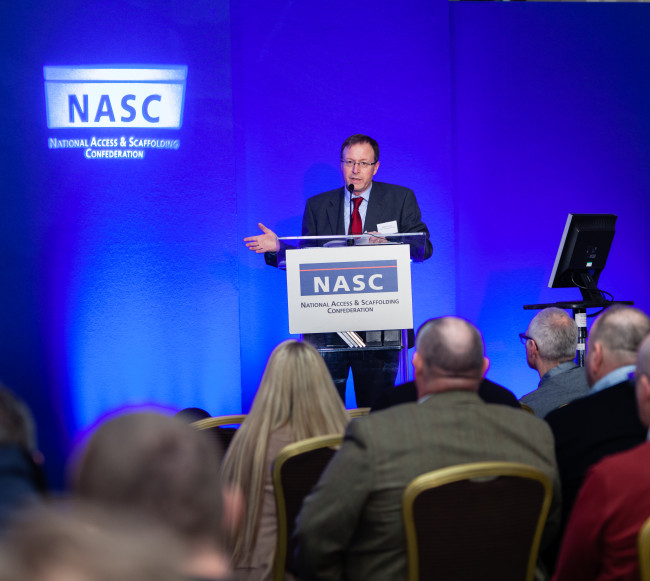 27.11.15
NASC 2015 AGM News Round-Up
The NASC held its AGM at the Queen's Hotel in Leeds today (November 27th) – releasing a range of news from the UK scaffolding industry trade body.
•SG4:15 'Preventing Falls in Scaffolding Operations' Launched
•New President sworn-in: Alan Lilley & Vice-President, Des Moore
•NASC biennial H&S Award winners announced
•2015 Apprentice of the Year unveiled
•New NASC website revealed
The packed agenda – reflecting the high activity levels of the confederation and its membership – included speeches from in-coming President, Alan Lilley (Commercial Scaffolding Ltd), Training Director & CISRS Manager, Dave Mosley and NASC MD, Robin James, to a full audience of NASC contracting, hire and sales and information members.
Addressing the membership, MD Robin James provided a 2015 Annual Review with updates on the activities of the various standing committees (Audit, ASITO, Health & Safety, Technical, Hire, Sales & Manufacturing, Contracts, Employment Affairs & Marketing). And he revealed details of confederation news, including:
1. The launch of SG4:15: 'Preventing Falls in Scaffolding Operations' – available to download free at www.nasc.org.uk
2. The election of a new NASC President, Alan Lilley. And a new vice-President, Des Moore, of TRAD Group Ltd.
3. NASC Health and Safety biennial award winners: Interserve Industrial Services (100+ employees) – 'Highly Commended' runners-up Wood Group Industrial Services Ltd – and Denholm Industrial Services (sub-100 employees) – Connect Scaffolding Ltd 'Highly Commended' runners-up.
4. 2015 NASC Apprentice of the Year award winner: Paul Howell of Complete Access, and runner-up Scott Curtin of Connect Scaffolding.
5. The imminent launch of a bold new, user-friendly NASC website – with a revised 'Find a Member' service, upgraded and easy-to-navigate Online Shop, prominent social media and more.
NASC MD Robin James said: "With TG20:13 a force for good in the industry, the launch of our core guidance, SG4:15, 553 apprentices created and £58,000+ raised for Teenage Cancer Trust by outgoing President, Kevin Ward – not to mention such positive activity for the confederation and our 260+ members – it's clear the scaffolding and access industry is booming. And NASC is at the heart of the industry activity.
"As ever, the NASC has been helping to set the industry agenda. And we are confident our new president, Alan Lilley, will play a key role in that – especially with his aims of increasing the membership and helping small and medium sized firms to get on board.
"I would like to thank the standing committee members. They are the lifeblood and shop window of our organisation and are what helps to make us such a force within the scaffolding sector and the wider construction industry."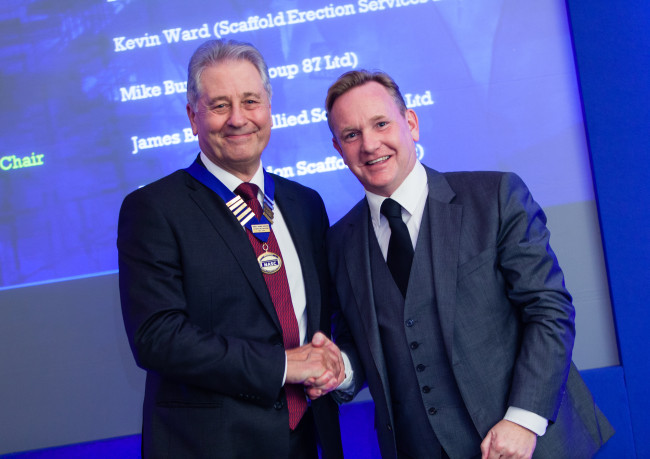 In-coming President, Alan Lilley said: "It is with a sense of pride that I take on the role of President of the confederation for the next two years. I am pleased that the NASC has never been in a stronger position than it is at this time: Membership is at an all time high, our technical and safety guidance is widely published and adopted, the messages we put out are being heard and I now believe the NASC is the premier trade body in the UK.
"It is my aim to increase the NASC membership and to make it attractive to small and medium sized companies in the UK – giving them as much assistance as possible to reach the high standards of the organisation and achieve membership status. The NASC is not a 'closed shop'– we are open to all bone fide companies where access and scaffolding provides a significant part of their business."
For details about becoming an NASC member and to find out more about latest SG4:15 'Preventing Falls in Scaffolding Operations' Safety Guidance notes, the TG20:13 full suite and the NASC – the UK scaffolding industry trade body – please visit www.nasc.org.uk or email: enquiries@nasc.org.uk.
And for more details on CISRS training, including a list of current providers, please visit: www.cisrs.org.uk