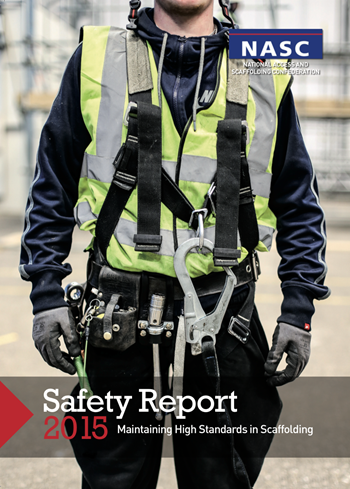 NASC 2015 Health and Safety Award
The NASC is requesting entries from its 200+ full contracting members for its biennial Health and Safety awards.
Any NASC contracting member company wishing to be considered for an award must complete a questionnaire and return it for judging by a specially selected panel of industry experts no later than 31 August 2015.
As in previous years, the NASC Health and Safety awards will fall into two categories: companies with up to 100 employees, and companies with more than 100 employees.
Winners of the awards will be announced at the NASC 2015 AGM, which is being held at The Queens Hotel in Leeds on Friday 27 November. And in addition to being presented with a trophy and a certificate at the AGM by the incoming NASC President Allan Lilley, the winners will be entitled to use a bespoke NASC 2015 Health and Safety Award logo (Winners or Highly Commended) on their corporate literature and company website, for a period of two years.
The NASC Health and Safety Awards judging panel – consisting of members of the NASC Health and Safety Committee and industry experts – set six health and safety questions to member companies. Winners are then selected based on their responses to the questionnaire.
Ken Johnson (NASC Health and Safety Support) said: "The Health and Safety Committee is inviting entries from the entire NASC contracting membership. In previous years, members were selected on the basis of completed accident returns for the annual NASC Safety Report. It is now considered that how health and safety issues are dealt with represents a better measure of the way that a member is addressing health and safety, together with procedures for the control and management of safety. We look forward to announcing the winners at the NASC AGM in November."
NASC Managing Director, Robin James added: "We look forward to welcoming entries for these prestigious biennial awards, which champion safety and good practice in scaffolding generally. This is something which is at the very core of what the NASC is all about. Many thanks to members of the NASC Health and Safety Committee and the judges for their input and involvement as they select the winners. The standard of entries is always extremely high and the event is now well-established in the NASC calendar, with a real incentive being the ability to carry bespoke NASC Health and Safety Award Winners or Highly Commended branding on company literature and websites."
To obtain an entry form for the NASC Health and Safety Awards, and to obtain details about these biennial awards, as well as more information about becoming an NASC member or to find out more about the NASC generally – NASC is the national trade body for access and scaffolding in the UK– visit www.nasc.org.uk or email: enquiries@nasc.org.uk. And to obtain digital PDF copy of the NASC 2015 Safety Report please visit www.nasc.org.uk/safety_reports.