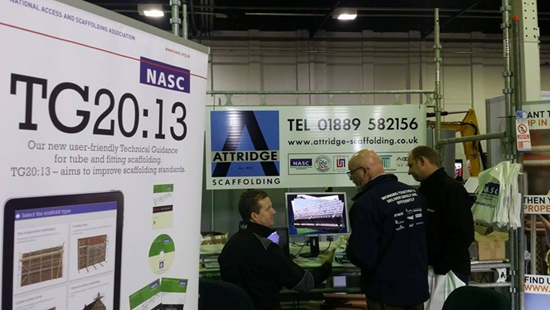 NASC and CISRS Exhibit at Network Rail Events
NASC and CISRS exhibited at two key Network Rail safety events at the end of January, with the assistance of safety and training experts, Simian Risk Management Ltd. This is part of an ongoing NASC/CISRS 2015 events campaign which aims to spread the safe scaffolding message of both organisations.
Both events were organised by Network Rail Infrastructure Projects and took place on Thursday 29 January. The event at Donington Park in the Midlands was entitled "Safe Start 2015 Day" with over 700 delegates in attendance, and was attended by Simian Risk Safety Director Dave Randles. The second event was at the Novotel London City South, where Simian Risk Managing Director Simon Hughes gave a presentation on TG20:13, the industry best practice guide for tube and fitting scaffolding.
The events were part of a national safety "Stand Down Day" which was created with the aim of highlighting Network Rail's safety initiatives, and showcasing industry innovations which are designed to improve health and safety standards. Both events were attended by principal contractor representatives and suppliers to the rail industry.
Simon Hughes said: "I delivered a presentation to more than 40 delegates on behalf of the NASC entitled 'A Scaffolding Update.' The main topic was how TG20:13 can be used in the rail sector, and how CISRS scaffolding training schemes have been affected by TG20:13. This went down very well."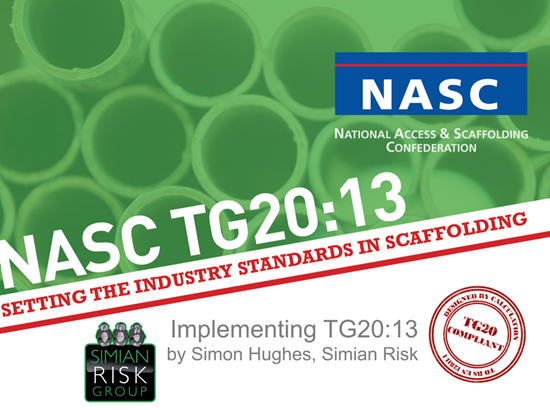 Dave Randles attended the Donington Park event, where NASC and CISRS were represented on a trade stand shared with NASC member company, JFE Attridge Scaffolding Services Co Ltd. Dave Randles said: "There were about 700 industry people at the event – mainly rail professionals. Many were not aware of TG20:13 because current Network Rail standards require bespoke designs for scaffold structures. However, the eGuide demonstrations were very well received, with many delegates expressing their belief that the simplicity of the eGuide and its associated compliance sheets could add real benefits to their scaffold management processes, not least in terms of cost savings and the reduction in turnaround time for design approval. There was a lot of interest in the work of both organisations. It was a very positive event."
James Attridge (JFE Attridge Scaffolding Services Co Ltd and NASC Technical Committee Chair) added: "The TG20:13 eGuide was particularly well received. As a result of the demonstrations, one of the Regional Directors wants to set up a further meeting to see how the eGuide might be implemented into future procedures. The time saving on waiting for leg loads and 'high street environment' designs would have a huge beneficial impact for all concerned."
Robin James, NASC Managing Director added: "These events are part of a continuing commitment by both the NASC and CISRS to 'get out there' and meet professionals from all industry sectors – spreading the message about the NASC setting the standard in scaffolding and CISRS providing industry recognised training qualifications. We are very grateful for the expertise and support of Simian Risk Management Ltd in assisting us with this mission, and are pleased with the response from the rail sector for our work, especially TG20:13, at both events. Feedback was extremely positive."
In addition to these Network Rail safety events, the NASC and CISRS will be sharing a trade stand at Health and Safety Scotland, 22-23 April at SECC Glasgow, also at the largest European safety event, Safety & Health Expo at London's ExCeL, on 16-18 June. In addition to TG20:13, the focus at these events will be on the benefits of using NASC member companies, CISRS training, and the forthcoming launch of SG4:15.
For details about NASC and CISRS 2015 events, becoming an NASC member, and to find out more about TG20:13 and the NASC – the UK scaffolding industry trade body – please visit www.nasc.org.uk or email: enquiries@nasc.org.uk. And for more details on CISRS training, including a list of current providers, please visit: www.cisrs.org.uk