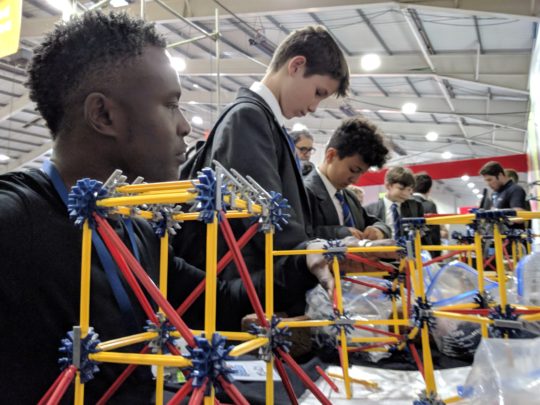 NASC and Apex Represent Scaffolding Industry at Big Bang Careers Fair
More than 2,000 pupils were switched on to scaffolding during the Big Bang South West careers fair in Exeter.
The daylong event saw 7 to 19-year-olds from across the region learn more about opportunities available to them under the STEM (science, technology, engineering and maths) umbrella.
The NASC, CISRS and NASC full contracting member Apex Scaffolding, based in Exeter, flew the flag for the industry, making the point that there is much more to scaffolding than being on the tools. Apex were attending as part of the 'Construction Zone', jointly co-ordinated by the Building Greater Exeter and Building Plymouth partnerships.
NASC Training Officer Henry Annafi said: "It was great to engage with so many keen schoolchildren, who all really took to our K'Nex scaffolding exercises, which mirrors the same structural principles seen on scaffolding structures of all shapes and sizes across the country.
"What was so encouraging to see was the pupils' enthusiasm to get involved with the building tasks and also learn more about the broad range of careers available to them in the scaffolding industry; from the visible – labourers and scaffolders to the less visible – designers, inspectors and procurement professionals.
"We were delighted to accept Apex Scaffolding's invitation to attend and hope that many of the young people we spoke to will go on to pursue a career in scaffolding."
Matthew Cousins, NASC South West Regional Vice Chair and Chairman of Building Greater Exeter added: "Apex Scaffolding have been involved in the Building Greater Exeter partnership since its inception and were delighted to be able to work with the NASC to ensure that our industry was represented as a career opportunity as part of the construction zone at the Big Bang Fair South West."
As part of its training and recruitment objectives, the NASC is forging ever-closer links with education providers and potential scaffolding employees of the future.
For more information please contact NASC Training Officer Henry Annafi via email here.