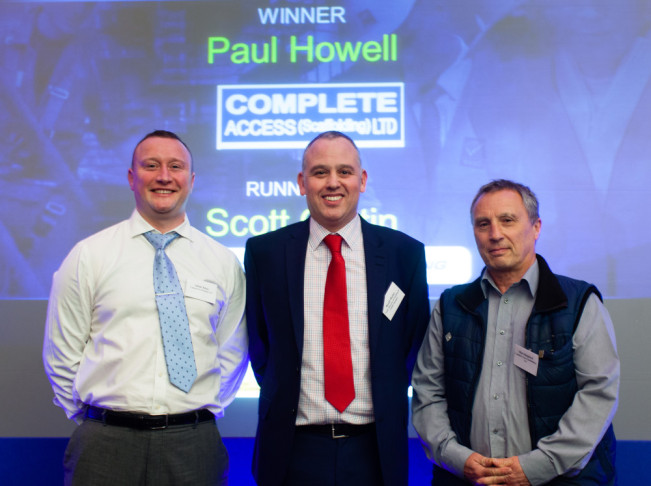 10.12.15
NASC Apprentice of the Year 2016 Winner Announced at AGM
The NASC has announced the results of its Apprentice of the Year 2016 Award at its Annual General Meeting in Leeds on Friday November 27th – with Paul Howell of Complete Access winning, and Scott Curtin of Connect Scaffolding named as runner-up.
Paul, 28, will be presented with a trophy and a cash prize of £500 by NASC Training Manager and CISRS Scheme Manager Dave Mosley imminently, whilst the apprentice's employer Complete Access will also receive a trophy and £500 – to be spent on scaffolding training with a CISRS approved training provider.
Now in its second year, the Construction Industry Training Board (CITB) and Construction Industry Scaffolders Record Scheme (CISRS)-sponsored NASC Apprentice of the Year scheme is aimed at individuals who are directly employed by an NASC Member company and are either part way through a formal scaffolding apprenticeship with an approved CISRS provider, or alternatively have successfully completed the apprenticeship programme in 2015.
And this year saw a raft of good entries from the confederation's 200+ full contracting member companies.
The criteria for the apprenticeships award states a successful candidate "needed to be conscientious, have shown a willingness to learn and develop skills and have gone above and beyond the call of duty whilst working their way through the qualification."
NASC Apprentice of the Year Scheme Judge and Construction Industry Training Board (CITB) Scaffolding Specialist Account Co-ordinator Diane Wood wanted to see "evidence of someone who through hard work, personal development and a commitment to the industry would be viewed as a shining example to others looking to enter the scaffolding sector."
CITB's Diane Wood said: "I have chosen Paul for this award as he has demonstrated immense strength of character and commitment as he faced the most difficult of personal challenges throughout the whole period of his apprenticeship, without requesting any adjustments either at work or college. Testimonies from both his employer and tutor are that he is an inspiration to everyone. Throughout this very testing period in his life he managed to offer advice, guidance and encouragement to other apprentices and continues to do this with the new apprentices at Complete Access, who look upon him as a mentor."
Mrs Wood said: "It's always very difficult choosing a runner-up, as I believe everyone nominated is demonstrating commitment to the industry. A couple of things have just given Scott the edge for me: He is attentive to instruction (particularly handovers and toolbox talks) which a lot of people feel are unnecessary aspects of the job, but are highly important. And Scott has also demonstrated regularly how he works in a methodical manner and effectively responds to carrying out challenging jobs in sensitive environments, ensuring minimum disruption to the client and in meeting tight deadlines."
Dave Mosley, NASC Director of Training and CISRS Scheme Manager said: "Congratulations to both winner Paul and runner-up Scott – both of whom demonstrated real excellence in their apprenticeships and are an inspiration to all those training in scaffolding."
For details about scaffolding apprenticeships, becoming an NASC member and to find out more about the latest SG4:15 'Preventing Falls in Scaffolding Operations' Safety Guidance notes, the TG20:13 full suite and the NASC – the UK scaffolding industry trade body – please visit www.nasc.org.uk or email: enquiries@nasc.org.uk.
And for more details on CISRS training, scaffolding apprenticeships and a list of current providers, please visit: www.cisrs.org.uk.