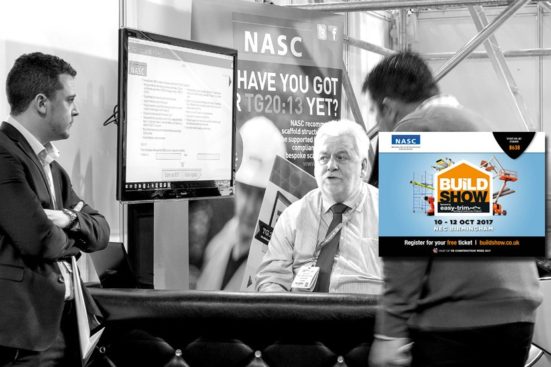 NASC and CISRS to Exhibit at Build Show, part of UK Construction Week
NASC and CISRS will be exhibiting at the Build Show 2017, October 10-12, at the NEC Birmingham – part of the multi-award winning UK Construction Week, which attracts 30,000 people and 650+ exhibitors under nine shows.
The Build Show (aka 'the show for people who build') section of the UKCW event is one of the largest and attracts thousands of construction industry professionals looking for solutions and the latest innovations. And the NASC and CISRS stand is set to be a major pull to event delegates – with a vast array of free information and industry-leading guidance on offer.
Attendees at the event will not fail to spot the NASC and CISRS stand (B638) – as a 3.0m tall independent scaffold tower is being constructed by NASC members TRAD Midlands Scaffolding Contractor, using the innovative Plettac Metrix modular scaffold system.
For each of the three days of the event, NASC and CISRS staff – as well as leading member company experts from the scaffolding and training sectors – will be on-hand to discuss the latest access and scaffolding guidance, changes to the CISRS scaffold training scheme (including the recent introduction of CPD), benefits of NASC membership and more.
The confederation will also be conducting live demonstrations of the enhanced TG20:13 eGuide Version 1.2 – released just a few weeks prior to the industry event. And staff will also be showcasing the new NASC membership audit and application process, now accredited to SSIP, as well as free to download guidance and publications, the 2017 Safety Report, latest NASC Yearbook, CISRS CAP 609 and more besides.
NASC members Turner Access Limited and Palmers Scaffolding UK Ltd will also be exhibiting on separate stands at the Build Show event, close to the NASC and CISRS stand – creating a scaffolding and access section of their own at the Build Show.
Robin James NASC Managing Director, said: "We came to the inaugural UKCW event last year, to see what it was all about and quickly realised it was going to be 'the place to be seen' – attracting a huge amount of traffic and extremely well run and promoted. The mix of exhibitors, expert speakers, wide range of workshops and excellent venue is an extremely attractive cocktail for those who attend – and for those wishing to promote their brands.
"We are excited to be there with an impressive stand which will be fully available to construction professionals and those with an interest in scaffolding and access. The event should help to give the NASC and CISRS the audience it deserves for its excellent work in promoting safer scaffolding."
NASC Director of Training and CISRS Scheme Manager, Dave Mosley, added: "NASC and CISRS are pleased to be working with its members at this flagship event –  reaching out to the construction and health and safety sectors. Together, we are hoping to spread the safe work at height message and promote the good work of the NASC, who set the industry standard in scaffolding, access provision and safe work at height and CISRS, setting the standard in training."
For details on the new SSIP-accredited membership application process, copies of recently published, industry-accepted, free to download guidance (except TG20 Suite publications & Pocket Guides) and for information on the NASC – the national trade body for access and scaffolding in the UK – including how to become an NASC member, please visit www.nasc.org.uk or email: enquiries@nasc.org.uk.
UKCW is free to attend, by registering here.