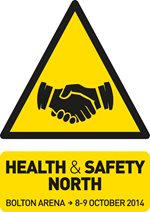 NASC & CISRS Set To Exhibit at Health & Safety North Event in Bolton 8-9 October 2014
The NASC will be exhibiting at the forthcoming Health & Safety North event being held at Bolton Arena from October 8-9th 2014, on trade stand B16.
NASC will be actively promoting the work of the confederation to representatives of the construction and health and safety industries attending the event, which is set to attract over 3,000 visitors. In addition, they will be showcasing the innovative TG20:13 tube and fitting technical guidance at the show – with live demonstrations of the TG20:13 eGuide in both PC/laptop format, and in the new Android App version, which provides a mobile, digital good practice guide for tube and fitting scaffolding.
Copies of the NASC 2014 Health and Safety Report will be available to pick up from the stand, together with recent NASC press releases and examples of NASC publications. And NASC staff will be on-hand to answer questions about the confederation and its guidance to event delegates.
The Construction Industry Scaffolders Record Scheme (CISRS) will be sharing stand B16 with the NASC, demonstrating the latest information on SITS and COTS scaffolding training courses, along with information on changes to the Basic, Part One, Part Two and Advanced scaffolding courses following the launch of TG20:13 earlier this year. Copies of the CAP General Information booklet will also be available together with press releases to promote the work of the industry recognised scaffold training scheme.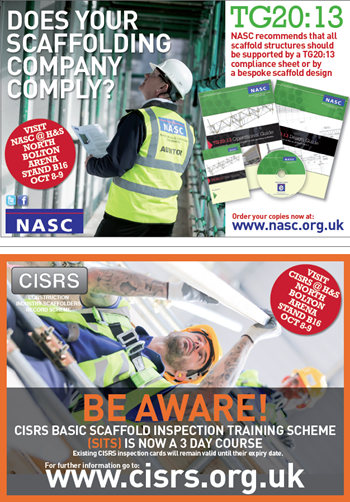 NASC MD, Robin James said: "Following on from the recent success at the S&H Expo at ExCeL in London earlier this year – where there was a huge amount of interest in what the organisation does, especially in TG20:13 – we are looking forward to promoting scaffolding best practice and showcasing recent NASC technical and safety guidance to the thousands of visitors anticipated at this northern-based event."
CISRS Training Manager, Dave Mosley added: "There was so much interest in scaffold and access training at the S&H Expo, and we expect similarly high levels of interest in CISRS training at the Health & Safety North. We are looking forward to widening the reach of the organisation there in October, in conjunction with the NASC."
Health & Safety Events were first launched in 2007 and have expanded rapidly with support from the industry's leading stakeholders, such as the British Safety Council. The event organisers say: "Each event brings together the very best of the UK health & safety industry at a strategically positioned venue. Combining ease of access for the visitor with affordability and measurable ROI for the exhibitor is what makes these events so popular. "
In order to attend this free event, loaded with trade stands and packed with free seminars, interested parties should pre-register for a pass at: http://www.healthandsafetyevents.co.uk/
For details about becoming an NASC member and to find out more about the NASC – the scaffold industry guidance trade
body organisation – please visit www.nasc.org.uk or email: enquiries@nasc.org.uk. To obtain a copy of TG20:13, please visit www.nasc.org.uk/tg20_13.
And for further details on the Construction Industry Scaffolders Record Scheme (CISRS), please visit www.cisrs.org.uk or email enquiries@cisrs.org.uk.