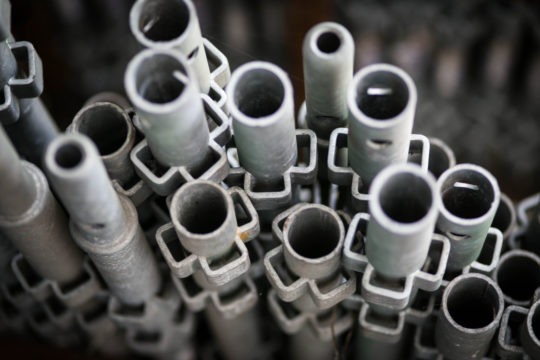 08.01.19
NASC Expands Scope of Code of Practice Compliant Product List
The NASC has added a seventh category to its Code of Practice (CoP) compliant product list – pre-fabricated structural transom units.
Member scaffolding product suppliers and manufacturers are required to comply with the requirements of the associated product audit form – available here.
Samples are then subjected to UKAS accredited independent laboratory testing, with those deemed as meeting the necessary British and European standards listed in the CoP compliant product list.
The other products included on the list are; EN 39:2001 tube [4mm], EN 10219-1:2006 high tensile tube [3.2mm], BS 2482:2009 timber boards, EN74-1 couplers, aluminium beams and BS EN 12810/11 system scaffolds.
The NASC published a suite of scaffolding product purchasing guidelines for these products in November 2018.
These six product guidance (PG) documents – numbered PG1:18 to PG6:18 – provide contractors with a simple, go-to resource to use so they can ensure the equipment they source is up to standard.
Each PG note details purchasing best practice and outlines the standards to which customers should check that products they are sourcing are manufactured and tested to. This includes what to look for, what relevant information they should request and what a test certificate looks like.
Hard copies can be purchased via the NASC online shop here. They can also be downloaded for free via the same link.
A PG note relating to pre-fabricated structural transom units will be published this year. The NASC CoP compliant product list will be further expanded as required.