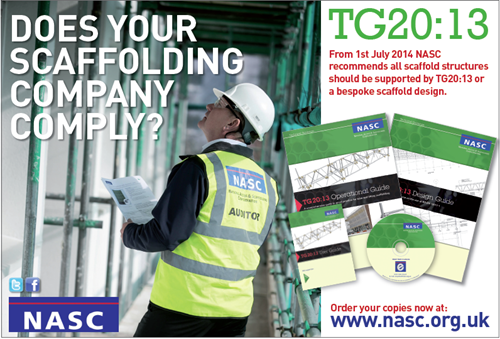 01.07.14
NASC Formally Withdraws TG20:08
Further to publication of TG20:13 in February the NASC has formally withdrawn TG20:08.
From 1 July 2014, the NASC recommends that all tube and fitting scaffold structures should be supported by TG20:13, using TG20:13 eGuide generated compliance sheets, or should be supported by a bespoke scaffold design.
TG20:13 aims to raise the awareness of good scaffolding practice across the construction industry, with a view to improving health and safety standards throughout the sector. TG20:13 has been designed to reduce the requirement for bespoke scaffolding design for standard scaffolding structures.
The TG20:13 suite of publications, developed by the NASC with software experts CADS, is supported by the UKCG, HSE, and CITB, and is underpinned by detailed structural research and conforms with the European standard for scaffolding BS EN 12811.
The pricing structure for the full suite of TG20:13 publications is posted on the NASC website www.nasc.org.uk and discounted rates are available for NASC member companies.
TG20:13 is comprised of four distinctive publications. Two comprehensive A4 books (Operational & Design Guides) are supplemented by a pocket-sized TG20:13 User Guide, and the innovative and user-friendly software known as the TG20:13 'e-Guide'. The eGuide incorporates 'TG20 Compliance Sheets' which significantly reduce the requirement for additional scaffold design. The TG20:13 eGuide is also now available as an Android App at www.nasc.org.uk.
NASC Managing Director, Robin James said: "Now that TG20:13 has had a four month 'bedding in' period, the time has come to withdraw its predecessor TG20:08, to ensure that industry is working to current guidance. The NASC is confident that its members, and the wider industry, will continue to welcome this innovative product, which will help to reduce design costs for a range of standard scaffold designs, as well as drive up standards and help to make the industry a safer place."
Those wishing to purchase a copy of TG20:13 should consult the publications section of the NASC website www.nasc.org.uk or email enquiries@nasc.org.uk or call 020 7822 7400.
Further information and TG20:13 auxiliary material is also available via the NASC's social media channels:
Facebook: www.facebook.com/NASCscaffolding
Twitter: www.twitter.com/NASCscaffolding
YouTube Channel: www.youtube.com/user/NASClondon