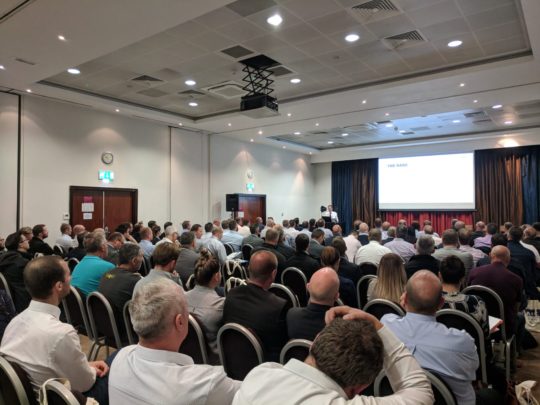 NASC Hosts Temporary Works Seminar
More than 100 delegates converged on Birmingham last week for the first NASC and TWf Temporary Works Seminar.
The half-day event saw four speakers take to the lectern, delivering presentations on a range of temporary works topics.
John Underwood, HSE Inspector, gave an insight into what the HSE is looking for in terms of safe and compliant scaffolding when they step on site, and Simon Hughes, Managing Director of Simian Risk, spoke about the code of practice for the design and management of temporary works, touching upon the recently updated BS 5975.
Robin James, NASC Managing Director, gave an overview of the history, aims and objectives of the NASC and the projects and initiatives being rolled out and in development to help make the scaffolding industry safer. These include the Head for Heights mental health awareness campaign, a series of 'refresher' toolbox talks and production of an SG4 Preventing Falls site poster.
Duncan Reed, Digital Construction Process Manager at Trimble Solutions Limited, was the final speaker, delivering a presentation exploring the role digital solutions such as virtual and augmented reality, digital scanning and digital workflows can play in increasing safety and efficiencies in the scaffolding industry.
A number of NASC supplier members exhibited at the seminar.
Robin James, NASC Managing Director, said: "I'd like to thank my fellow speakers, all the delegates that attended and the NASC supplier members that exhibited at the seminar for making this event such a success.
"It was great to bring such a diverse group of professionals together in one room to learn more about temporary works, particularly how we can all work more efficiently and collaboratively to ensure works are carried out as safely as possible and to the highest possible standards."
The NASC and TWf are co-hosting an event focused on the updated BS 5975 title later this month. This event has already sold out. A second NASC and TWf Temporary Works Seminar is planned for later this year.