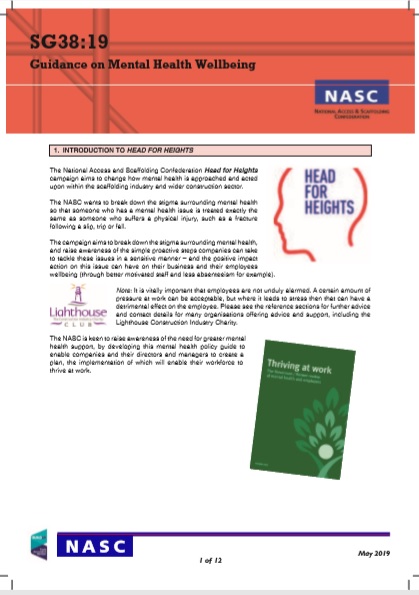 NASC Publishes Mental Health Policy Guidance
The NASC has moved to provide scaffolding companies with a go-to mental health and wellbeing resource through its latest publication, SG38:19 Guidance on Mental Health Wellbeing.
Aimed at breaking down the stigma surrounding mental health within the access and scaffolding industry, this new guidance helps employers to better understand mental health, and to create an action plan for employees to thrive at work. It provides advice and contact details of other organisations who can also provide support.
SG38 was developed by the Current Affairs Committee in conjunction with the Health & Safety Committee and forms part of the NASC's wider Head for Heights campaign, which aims to promote the importance of focusing on employee wellbeing in the workplace.
Robin James, NASC Managing Director, said: "We are pleased to have published this guidance, which we believe will play a huge role in empowering employers across the UK, enabling them to better support the mental health needs of their employees.
"This guidance provides employers with proactive steps they can take to improve wellbeing in the workplace as well as a host of useful links and services that they can signpost their employees to."
SG38 can be downloaded for free via the NASC online shop. Hard copies may also be purchased via the same webpage.