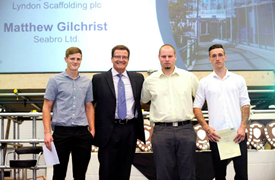 NASC Member Apprentices well represented at annual NCC Awards
The National Construction College – the training provider for the Construction Industry Training Board, CITB – has just hosted its annual NCC award ceremonies, at regional venues across the UK, in Scotland, South and London, Midlands and the East.
The NASC sponsored the Access category of the NCC Apprentice Awards, and is pleased to report that NASC member companies provided a large number of the nominees for awards in Year One and Year Two Scaffolding, including all three nominees in NCC South and London, and NCC East. There were also NASC member nominees and winners in the Essential Skills Apprentices Award category too.
NASC Managing Director, Robin James said: "Historically, NASC member companies have always done well getting their apprentices into the NCC Awards, and this year is no exception – with a number of nominees and two winners in the 2014 Awards."
CISRS Training Manager Dave Mosley, said: "Congratulations to all those NASC member companies who had apprentices nominated for awards at recent round of National Construction College Apprentice events. NASC were particularly well represented in the NCC South and London region, with all three Year One nominees, including the winner, being employed by member companies.
"The NCC Awards are a great way of celebrating apprenticeship schemes in scaffolding and access, which we fully support. We'd like to wish each apprentice nominated and those who won awards our congratulations, and we wish them every success in their scaffolding and access careers."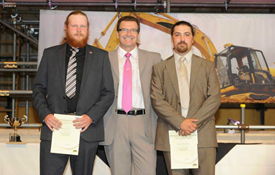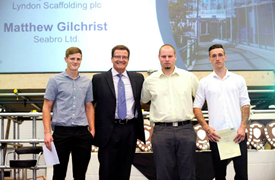 The National Construction College continues to be the largest training provider of its kind in Europe – supporting over 26,000 individuals every year including over 700 apprentices, and enjoying achievement rates well above the national average.
An NCC spokesperson said: "Each year, at our annual Apprentice Awards ceremonies, we celebrate the success of those apprentices who have made an outstanding contribution to their studies and have demonstrated a real commitment to kick starting their careers in the construction sector."
For further details about CISRS training courses, information and dates on courses available, a full list of training providers or to find out more about CISRS, please visit www.cisrs.org.uk or email enquiries@cisrs.org.uk.
Full list of NASC members' workforce nominated for NCC Apprentice Awards 2014 (winners in bold)
NCC Scotland Year 1 Scaffolding Apprentice
Lee Bannerman                                 MJD & Sons (Scaffolding) Ltd
Michael Glen                                     Cape Industrial Services Ltd
NCC Scotland Year 2 Scaffolding Apprentice
Andrew Mooney                                Interserve Industrial Services Ltd
NCC Midlands Year 1 Scaffolding Apprentice
Steven Symes                                   Oxford Spires Scaffolding Ltd
NCC South and London Year 1 Scaffolding Apprentice
Ashley Wattingham                         Access Solutions Scaffolding Ltd
Wayne Mills                                      Lyndon Scaffolding PLC
Matthew Gilchrist                               Seabro Ltd
NCC South and London Year 2 Scaffolding Apprentice
James Helder                                    BJ Champion Scaffolding Ltd
NCC East Year 2 Scaffolding Apprentice
Terry Crowdy                                     Fourways Plant Ltd
Steve Stone                                      Blencowe Scaffolding Ltd
NCC East Essential Skills Award
Marc Whitestone                               J.W. Scaffolding Ltd
James Wade                                   J.W. Scaffolding Ltd