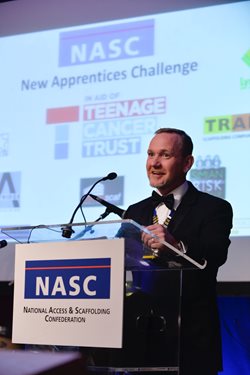 NASC President's New Scaffolding Apprentices Challenge Update
NASC President, Kevin Ward's scheme to create a minimum of 400 new scaffolding apprentices during his two-year term is off to a flying start.
New apprentices are listed within the challenge figures once they have successfully completed their induction training. The total currently stands at 153, meaning the membership is on track to meet its target.
Mr Ward – a former scaffolding apprentice himself – unveiled his ambitious scheme at the NASC AGM on November 22nd 2013, also revealing that The Teenage Cancer Trust would be a beneficiary of the challenge, with each new apprentice generating £100 in sponsorship from participating NASC member companies. Assuming the 400 apprentices target is met, this will mean the charity will receive a minimum donation of £40,000 from NASC members, through the two year programme.
NASC President, Kevin Ward said:  "If we reach our target this will not only bring much needed new blood into our industry at a time when many members are experiencing problems with the supply of labour, but will also result in a sizeable donation to a very worthy cause. "I'm very pleased with the quick, positive response from NASC member companies to date, well done and thank you for the support."
"Of course, we must not rest on our laurels. There's still a long way to go to reach our goal in just over 15 months' time."
It is interesting to note that one in four member companies, representing a healthy mix of large, medium and smaller sized businesses, has put one, or in some cases several, new apprentices through their induction training since the challenge was issued in November. We have been advised that a considerable number of new apprentices have since been registered and are now awaiting available dates to complete their induction before being added to the list.
Mr Ward believes that the NASC membership has a responsibility to lead from the front and set the right example to the rest of the scaffolding industry, as well as to clients. The confederation would urge any of its members yet to take on any new apprentices since November to get recruiting now and play their part in ensuring that the sector has a skilled workforce for the future.
CISRS Scheme Manager, Dave Mosley said: "I am confident NASC members will get behind the scheme and it should be a relatively straightforward commitment for us to fulfil as the members are great supporters of CISRS training." He added "I would like to hear from any member company struggling to find a placement with a suitable approved training provider for any of its new apprentices and we will do whatever we can to help them out."
The NASC's President's apprenticeship scheme has the backing of the Minister of State at the Department for Business, Innovation and Skills, Rt Hon Matt Hancock MP – after NASC President, Kevin Ward wrote to the Prime Minister to inform him of the challenge.
Mr Hancock said: "Apprentices are at the heart of the Government's drive to equip people of all ages with the skills employers need to grow and compete. Research shows Apprenticeships are good for people, good for the economy, and help employers build a loyal and competent workforce. We rely on employers offering opportunities, so I welcome your support of the Apprenticeships programme in making this new commitment."
Michelle Aucott, Regional Fundraiser for The Teenage Cancer Trust added: "We are very excited with the plan… and we would like to thank the NASC membership for supporting The Teenage Cancer Trust. This money will make such a difference to the lives of teenagers and young adults that have been affected by cancer. We rely on donations to fund our vital work and help transform the lives of young people with cancer."
To discover more about and get involved with the NASC's 400 Apprentices drive and The Teenage Cancer Trust charity work, please visit www.nasc.org.uk, email enquiries@nasc.org.uk or call 020 7822 7400.