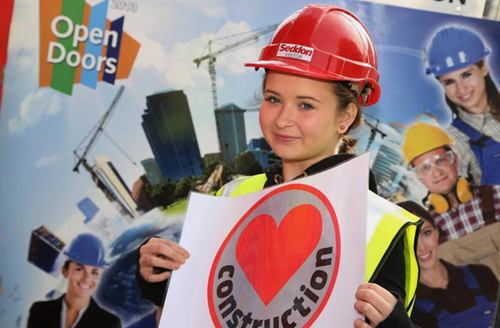 NASC Support UKCG's 'Open Doors Weekend' Campaign
The NASC is supporting the 2015 'Open Doors Weekend' campaign, organised by the UK Contractors Group (UKCG), the Scottish Contractors Group (SCG), the Construction Industry Training Board (CITB) and Sector Skills Council, the Chartered Institute of Building (CIOB) and the Considerate Constructors Scheme (CCS).
The initiative aims to "give a unique opportunity to have a 'behind the scenes' look at 100+ major construction sites for more than 3,000 people, in a safe, exciting and unique environment" on March 6th & 7th 2015. And a variety of interesting sites have already been lined up from from top contractors and developers such as VINCI, BAM, Midas and Galliford Try. In addition Kier, Carillion, Mace, Morgan Sindall, Wates, Sir Robert McAlpine, Mace and many other big names are set to book their sites by the end of the year, in time for the March event, which will also be supported by local MPs and other industry players.
Aimed at the 11-16 and 16-24 age groups, teachers, parents and those with an interest in 'life behind hoardings', the scheme's aim is to encourage the next generation of construction workers – including scaffolders, scaffold designers, access provision and other associated work at height careers, hence the NASC support.
Robin James, NASC Managing Director said: "The UKCG and NASC work closely together on a number of projects. And we are very happy to support this superb scheme, and hope our members and the scaffolding industry get right behind it.
"Very few construction projects can go ahead without scaffolding and access, so our industry plays a vital part in the wider construction sector. As such, it's important to make sure we are supporting the next generation of construction workers, especially scaffolders, through superb schemes such as Open Doors."
Rachel Done of the UKCG said: "UKCG are very pleased to have NASC support for Open Doors Weekend 2015. NASC members make a vital contribution to the safe construction of projects.
"This annual event provides a focus for the whole industry to shout about the wide range of career options available to young people. We would ask those working in construction to promote the event to their contacts particularly in schools, colleges and universities."
Registration for the event and information can be found at: www.opendoorsweekend.co.uk & via the UKCG's other 'Born to Build' initiative at: www.borntobuild.org.uk and via their social media platforms on Facebook here and Twitter here (@OpenDoorsWknd & @borntobuilduk) where the hashtag #doors2015 is being used to identify the campaign.
For details about getting into the scaffolding industry and becoming an NASC member, or to find out more about TG20:13 and the NASC – the scaffold industry trade body – please visit www.nasc.org.uk or email: enquiries@nasc.org.uk.