02.09.15
New CISRS Logos Unveiled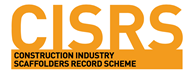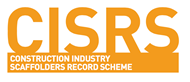 CISRS have unveiled a range of new logos to modernise branding, using their orange, black and white company colours.
The logos have been designed in-house and feature a range of striking designs for use on different coloured backgrounds, with:
Orange logo with black company name
Orange logo with white company name, and
Black logo with orange company name
The new logos will be forwarded to CISRS training providers initially and then rolled out throughout the rest of the year, with a view to complete integration in early 2016.
CISRS Scheme Manager Dave Mosley said: "We have had the old silver and white CISRS logo for many years now and felt the time had come to modernise and bring it into line with the orange, black and white designs of our advertising campaigns. The rotation of the colours will provide a "home and away strip" scenario and will be helpful particularly if the training providers wish to use the new logo alongside their own corporate colours or branding.
"We are aware the integration of a new logo can take time to achieve, but hope that by the early part of 2016, everyone will be using the new designs, and that they will be well-received by the scaffolding, training and wider construction industries. The CISRS website, which will also be receiving a re-vamp, will include the new logos."
To obtain the new CISRS logos or for further details about CISRS card courses, training changes following the introduction of TG20:13, information and dates on courses available, a list of approved training providers, or to find out more about CISRS, please visit www.cisrs.org.uk or email enquiries@cisrs.org.uk.