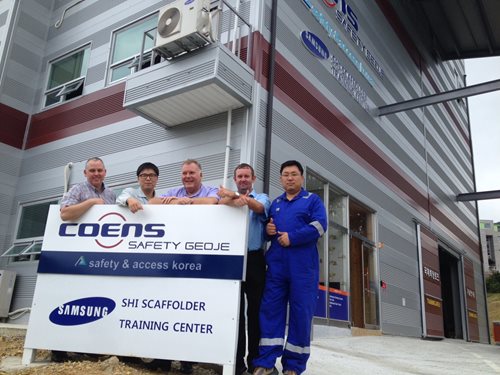 New CISRS Scaffold Training Facility in South Korea
CISRS have opened a brand new CISRS scaffolding training facility in South Korea for CISRS Overseas Scaffolder Training Scheme (OSTS) courses.
Following a recent trip to the Samsung Heavy Industries (SHI) Scaffolder Training Centre in South Korea by CISRS Training Manager, Dave Mosley, the facility has gained accreditation for the delivery of scaffolder skills training, scaffold inspection and scaffold supervisory qualifications.
The new facility (run by CISRS-approved training provider, Safety & Access) will provide key support training services to Samsung and their scaffolding operations, for at least the next two years – which will provide a great boost in the number of CISRS OSTS qualified operatives in the region. Since the introduction of the CISRS scheme last July over 1,000 CISRS cards have been issued relating to Level 1 and 2 Scaffolder, Scaffold Inspection and Scaffold Supervisor Training.
CISRS Scheme Manager, Dave Mosley conducted a full, independent audit of the new centre and said: "We are delighted to be able to grant accreditation to Safety and Access. This centre demonstrates the growing popularity and recognition of the CISRS scheme across the globe. We are thankful to Samsung Heavy Industries for supporting and promoting the OSTS overseas scheme. They really are leading the way in this part of the world and we would like to think that the other major players within the shipbuilding sector will follow their lead based upon the improved standard of scaffolding on site since the introduction of CISRS training."
CISRS training in the Far East region has been led by Safety and Access for almost 18 months – almost exclusively for their client Samsung Heavy Industries, who operate a huge shipyard at the Geoje Island site in the South of the country.
The opening of this new CISRS centre follows recent overseas expansion by approved providers, Safety & Access – with the opening of two centres in the Middle East situated in UAE and Qatar to add the two existing centres in the UK in Nottingham and North East Lincolnshire.
Safety & Access Joint Managing Director, Rick Statham commented: "We recognise and promote only independent CISRS accreditations for scaffolding in the UK and internationally and are extremely proud of this ongoing recognition of our professional and dedicated approach to providing quality training to our clients. We would also like to thank our client Samsung Heavy Industries for investing in the provision of the scheme and we look forward to continuing this service for years to come in the region.
"As a provider that has delivered CISRS training for many years in the UK, we are delighted to be able to offer the similarly accredited scheme to our clients on an international basis, having exceeded the 1,000 mark can only serve to provide a benchmark for other heavy industries and clients within the oil and gas business."
For further details about all CISRS OSTS overseas accredited training centres, tube and fitting and system scaffolding CISRS courses, or for information about any of the scaffolding training courses on offer in the UK or abroad, please visit www.cisrs.org.uk or email enquiries@cisrs.org.uk.