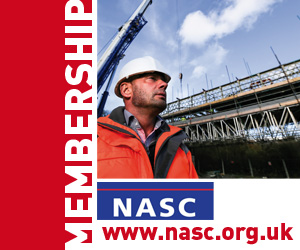 01.09.16
New NASC Membership Certificates
The NASC has created new membership certificates for its three tiers of membership – full contracting, full non contracting (hire, sales and manufacturing) and information only members.
The colourful new certificates have a professional appearance and carry a brief explanation setting out the requirement for achieving and maintaining compliance with NASC membership status, along with a statement that NASC member companies are expected to comply with confederation standards.
For the first time, there is a standalone certificate for NASC full non contracting membership, giving the NASC hire/sale sector recognition for their role in the scaffolding sector.
The new NASC membership certificates will be introduced from 1st September 2016 (old style certificates will of course remain valid until date of expiry).
NASC President Alan Lilley said: "We wanted to create a striking new document which reflects that obtaining NASC membership through the strict audit process and criteria is more than just a paper chasing exercise, as it is for many accreditation bodies. Achieving NASC membership and maintaining member status is something to be proud of, and these new certificates reflect this."
NASC MD Robin James added: "The old style certificates were overdue for updating and the new versions are striking, modern and professional in appearance. We hope all our members take pride in displaying the new membership certificates in their offices across the UK."
NASC full contracting members are audited to exacting standards. Contracting members must also comply with the latest NASC safety and technical guidance, pay particular regard to CISRS scaffolding industry training requirements and meet a minimum requirement of 75% direct employment of scaffolding operatives, in addition to other audited membership criteria, details for which can be found here.
For details about the NASC – the UK scaffolding industry trade body – including becoming an NASC member and for details about the NASC Scaffolding Specification Document, new biennial scaffolding product innovation award, to order copies of the SG4:You 2015 pocket guide, information on the latest Safety (SG) and Technical (TG) guidance, or to order a TG20:13 full suite, please visit www.nasc.org.uk or email: enquiries@nasc.org.uk