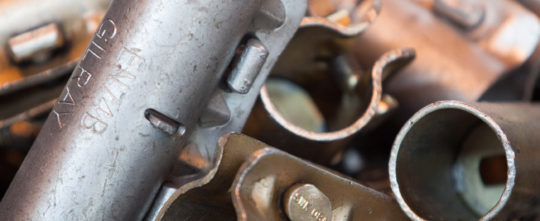 NASC Welcomes Two New Supplier Members
Two established scaffolding suppliers have had their applications to become NASC full non-contracting members approved.
PSB Sales Ltd, based in Devon, and PcP Gratings Ltd, based in Wolverhampton, both met the NASC's stringent membership criteria and were formally accepted as NASC members in May.
Both companies must now complete an audit covering Quality Systems & Procedures, Product Testing, Raw Material & Components and Process Control in respect of scaffolding products covered by the NASC Code of Practice. Where appropriate relevant BS, EN & ISO Standards are utilised.
PSB Sales Ltd offers a wide range of both new and used conventional and system scaffolding, building products and accessories throughout the south-west and beyond.
Daniel Steele, Group Business Manager of PSB Sales Ltd, said: "The NASC has been setting the benchmark for product testing which will offer our customers peace of mind. We wished to join to provide our customers assurance that our equipment and service is of the highest quality.
"As such, we are delighted to become members of the NASC and look forward to developing and growing with them."
PcP Gratings Ltd is a manufacturer and supplier of gratings, scaffold tube and boards as well as sundry components and accessories.
Peter Webster, Director of PcP Gratings, said: "At PCP Gratings Ltd we understand the importance of the NASC to the industry. The NASC is and has for decades been a true industry trade body with a rigorous audit process, and high standards for entry and retention of membership.
"We are proud to have been accepted as a full non contracting member and look forward to fully participating with and supporting all existing and future members of the NASC."
Sean Pike, Chair of the NASC Hire, Sales and Manufacturing Committee and Managing Director of Layher UK, said: "We are delighted that both PSB Sales Ltd and PcP Gratings Ltd have recognised the benefits of attaining NASC non contracting membership.
"Through meeting the membership criteria, both companies have demonstrated to their customers that they are committed to delivering the highest standards in both product and service."
The NASC is currently developing a suite of product guidance documents. This reference material, which is being prepared by the NASC Hire, Sales & Manufacturing Committee, will give scaffolding contractors key advice regarding product specification.
It will include detailed sections on system scaffolds, EN39 tube, EN74-1 couplers, BS2482 timber board, aluminium beams and high tensile 3.2mm tube and will list the basic compliance requirements for each product group.
The guidance documents are also designed to assist NASC auditors when auditing contracting member companies. Publication is anticipated in June 2018.