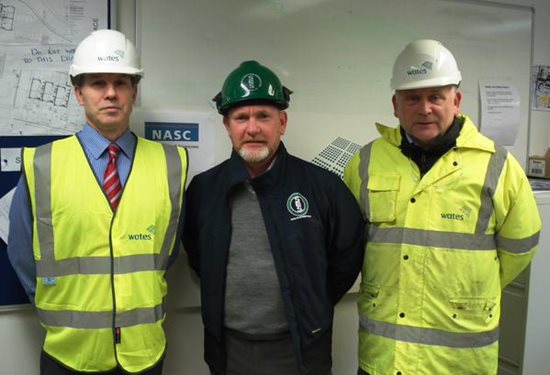 Principal Contractors Selecting NASC Member Companies
Principal contractors are increasingly stipulating only NASC Member companies to carry out their scaffolding and access contracts on construction sites across the UK.
In two out of their three regions in the UK, major UK contractor Wates Living Space are specifying the use of NASC member companies only for their access and scaffolding requirements.
This trend is being reflected across the the UK by most principal contractors and major construction companies – to guarantee that scaffolding best practice is being adopted on their sites. And many of these large construction brands are also joining the NASC as information members, including Wates Living Space.
The Wates Living Space Regional Director behind this decision is Regional Operations Director, Tom Langley, who says: "Wates Living Space are delighted to become information members of the NASC – as the national body for setting scaffolding industry standards in the UK.
"We see membership of the NASC as a vital part of our commitment to zero harm both to our workforce, to our supply chain partners, and to the communities in which we serve. It will support our approach to training for continuous high standards of scaffolding best practice."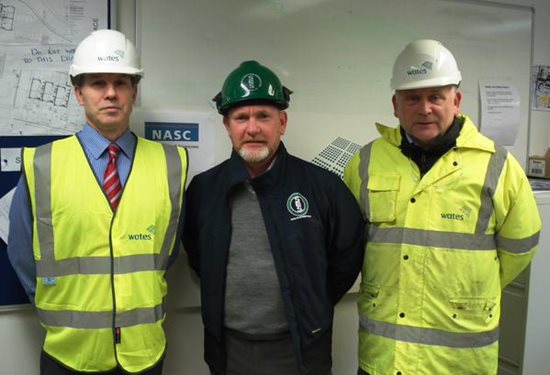 Martin Glover – Wates Living Space National SHE Manager and Tom Langley with NASC President Kevin Ward (centre)
NASC President (and Chairman of Scaffold Erection Services Ltd), Kevin Ward said: "I am delighted that when it comes to potentially hazardous access and scaffolding activities, Wates Living Space have identified that the surest way to provide a safe working environment for all affected parties on their sites (where industry specific best practice will be the norm) is to join the ever expanding list of blue chip organisations that stipulate the use of NASC regulated scaffolding companies only on their sites across the UK.
"It is my hope that this decision by Wates Living Space may also act as a catalyst for other like-minded organisations to follow suit, whilst also encouraging scaffolding contractors who are not members of the NASC to up their game, accept working to established best practice and regulation as a positive for their business, and apply for membership of the NASC – the national trade body for the access and scaffolding industry."
NASC Managing Director, Robin James, added: "We are seeing more and more principal contractors across the UK specifying NASC members only for their scaffolding and access requirements. This is no surprise to us, as our members are strictly audited to make sure they comply with the very latest in NASC safety and technical guidance – which represents best practice for the scaffolding industry as a whole."
For details about becoming an NASC full member or information member with the scaffolding industry trade body – the NASC (National Access and Scaffolding Confederation) – and to find out more about TG20:13 and other technical and safety guidance, please visit www.nasc.org.uk or email: enquiries@nasc.org.uk.