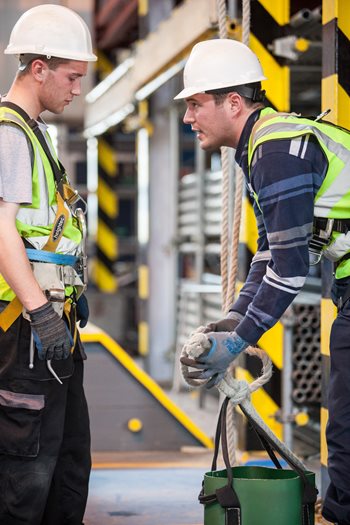 Qualifying The Workforce Training Funding 2015
The NASC has received confirmation that funding has been secured from Construction Industry Training Board (CITB) which will enable them to run their 4th Qualifying The Workforce (QTW) programme, starting in January 2015.
This follows three successful QTW programmes involving NASC members in 2012-2014, where proposed targets were exceeded on each occasion – with more than 200 operatives qualified to CISRS Scaffolder via either apprenticeships or the adult/commercial route, Advanced Scaffolder or Scaffolding Supervisor in 2012 and 2013.
In 2014 the QTW programme also included payments for those undertaking the CISRS Operative Training Scheme (COTS) course for New Entrant Trainee and Scaffolding Labourers – with a £125 payment to the employer upon completion of training and issuing of the relevant CISRS cards.
The CITB funding has allowed NASC not only to promote the concept of a fully qualified workforce to the scaffolding sector but also to pay out over £25,000 to participating members in 2012-2013, with a further £29,000 paid out in 2014.
NASC received additional/exceptional funding from CITB in 2014 – in order to offer further support to the QTW programme. This will hopefully create an additional 100 qualified operatives (across all five CISRS training course categories) before the end of the year.
NASC Director of Training, Dave Mosley said: "NASC & CISRS would like to thank the CITB for their continued support, which allows us to promote QTW and make a small bonus payment to the members who spend a lot of time and money maintaining a qualified workforce – helping to make the scaffolding industry a safer place."
In addition to the new QTW, NASC has also received CITB funding to run a batch of three-day, new-style Basic Scaffold Inspection Training Scheme (SITS) courses – which are open to non-NASC members and member companies. The courses will be running at NCC Scotland, Simian Skills and NCC Midlands (which NASC's Ken Johnson will be attending).
Dave Mosley added: "The CITB Specialists department have been extremely helpful highlighting the possibilities of accessing additional funding for new and developing training programmes. This fitted perfectly with the introduction of the three day Scaffold Inspection Training Scheme (SITS) courses. This funding is very welcome and makes the transition from two to three day courses a little easier for the industry."
For further details about 2015 Qualifying The Workforce Training, three-day CISRS SITS courses and training changes following the introduction of TG20:13, information and dates on courses available or to find out more about CISRS, please visit www.cisrs.org.uk or email enquiries@cisrs.org.uk. And to obtain a copy of TG20:13, please visit www.nasc.org.uk/tg20_13.