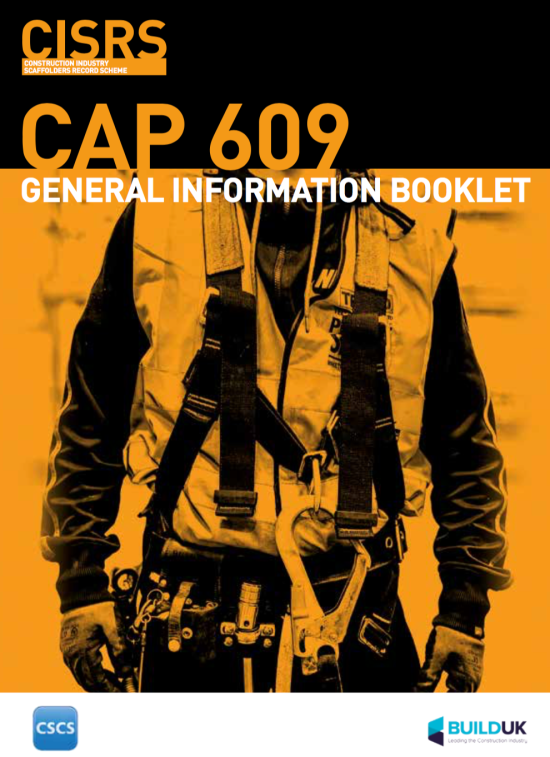 04.07.16
Revised CAP 609 CISRS General Information Booklet Released
The popular, user-friendly Construction Industry Scaffolders Record Scheme (CISRS) CAP 609 General Information Booklet has been revised and reprinted – with a bold new cover design, incorporating the new CISRS logo.
The 52-page A5 booklet is designed to provide a detailed overview of the CISRS scheme and includes the full range and scope of courses including CISRS Operative Training Scheme (COTS), Part 1, Part 2, Advanced, Supervisor and Scaffold Inspection Training Scheme (SITS).
The CAP 609 booklet will be available from mid-July free of charge to industry professionals, by contacting CISRS via email enquiries@cisrs.org.uk. A PDF version will also be available to download via the CISRS website.
The booklet will also be disseminated to industry players such as BuildUK, HSE, CSCS and unions, and will be distributed at UK-wide careers days and industry events. Additionally, all CISRS course delegates and training centres will be issued with copies.
Included in for the revised version of CAP 609 are details on changes to scheme courses and the card renewal system with the introduction of Continuing Professional Development (CPD) – where from 1 June 2017 there is a mandatory requirement to complete a two day CPD course, prior to Scaffolder or Advanced Scaffolder card renewal.
CISRS Scheme Manager, Dave Mosley said: "CAP 609 provides a very useful overview of the CISRS scheme and is a great reference document for those looking to complete CISRS training, scaffolders, employers and the wider Industry."
To obtain a copy of CAP 609 or to find out more about CISRS, please visit www.cisrs.org.uk or email enquiries@cisrs.org.uk.