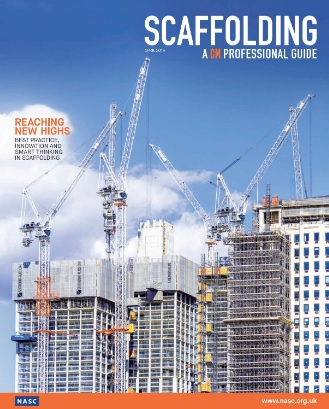 25.03.19
New NASC Scaffolding Magazine Hits the Shelves
The NASC is delighted to announce that the inaugural issue of Scaffolding magazine, published on behalf of the National Access & Scaffolding Confederation (NASC) by Construction Manager, is now available.
It can be read here. Hard copies come free with the March edition of Construction Manager.
Robin James, NASC Managing Director, said: "The aim of this publication is to further strengthen ties between the NASC, the trade body for access and scaffolding in the UK, and the wider construction industry by providing an insight into the expertise and cutting-edge innovation of NASC full contracting and non contracting members.
"The NASC strictly audits its members every year to ensure compliance with NASC Criteria, Code of Conduct and Code of Practice for scaffolding products. These high standards are recognised and valued by construction industry leaders, who are stipulating 'NASC' only' companies for access and scaffolding in increasing numbers every year.
"Beyond that, it is the ingenuity, reliability and in-depth scaffolding knowledge and experience of our members that helps to set them apart from non-NASC contractors. I hope these efforts come across in the new Scaffolding magazine."