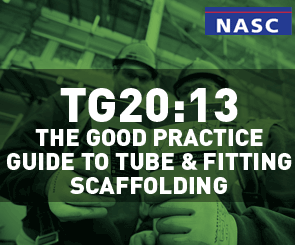 A new software update to the TG20:13 eGuide is now available as a free download for all existing eGuide users.
This new update demonstrates the commitment of the NASC to the continual improvement of TG20:13 to meet the demands of the UK scaffolding industry.
Version 1.3 of the TG20:13 eGuide provides the following updates:
Checking a compliance sheet
Reporting the permitted seasons
Compliance sheet illustrations
Click Here to review the full TG20:13 eGuide 1.3 release notes
Please note: If you are running version 1.2 of the eGuide please uninstall before installing version 1.3
Downloads for TG20:13 version 1.3

  TG20:13 eGuide 1.3 update for Windows or MacOS (NEW)

  TG20:13 eGuide 1.3 update for Android devices (NEW)
Installation Problems
If you receive an error message saying "The application cannot be installed due to a certificate problem.  The certificate does not match the installed application certificate, does not support application upgrades, or is invalid.  Please contact the application author."  As it is not possible to directly update from a previous version of the eGuide to the new 1.3 version please make sure the previous version is uninstalled before updating to 1.3.
If you receive an error message during installation that says the TG20:13 eGuide file is damaged, it may be that the anti-virus software on your computer (such as Norton or McAfee) has blocked part of the installation.
To resolve this problem, try temporarily disabling your anti-virus software and re-installing the eGuide.
You may find you need to download adobe air http://get.adobe.com/air
If you experience any further issues with installation of TG20:13 eGuide please visit the FAQ page in the first instance.
Help and support
If you have any problems downloading, installing or activating the TG 20 eGuide, technical support is available from CADS, the authors of the TG 20 eGuide software.
Telephone support is available from 09:30 – 17:00, Monday to Friday.
support@cads.co.uk
+44 (0)1202 603733
http://www.cads.co.uk