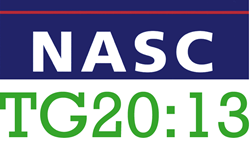 tG20:13 Good Practice Guidance for Tube & Fitting Scaffolding
The NASC's new TG20:13 Technical Guidance offers good practice guidance for tube and fitting scaffolding.
TG20:13 aims to raise awareness of good practice in scaffolding across the construction industry and drive up standards of scaffolding, and safety.
The TG20:13 'Suite' of guidance is supported by the UKCG, HSE and CITB.
TG20:13 was published in February 2014. A pricing structure was posted on the NASC home page www.nasc.org.uk at time of publication, with discounted rates for NASC members.
TG20:13 is underpinned by detailed structural research and is designed to conform with the European standard for scaffolding: BS EN 12811.
NASC created TG20:13 for the wider industry to reduce the requirement for bespoke scaffolding design for standard scaffolding structures.
TG20:13 provides guidance for independent scaffold structures, birdcages, loading bays, ladder-access and free-standing towers, and chimney scaffolds. It includes features such as bridges, protection fans, inside board brackets, cantilevered platforms and pavement lifts. Floor-level lifts and double standards are addressed, and guidance is provided for the first time for structural transom units.
TG20:13 is comprised of four distinctive publications: two coprehensive A4 books (Operational & Design Guides) and innovative new software known as the TG20:13 e-Guide incorporating 'TG20 Compliance Sheets' which reduce the requirement for additional scaffold design. Also included is a pocket-sized TG20:13 User Guide
1. TG20:13 Operational Guide. A full-colour, brand new, 224-page guide containing detailed practical guidance for most common types of scaffolding supported by structural research and calculations. Guidance is provided for an expanded range of standard structures which includes independent scaffolding, interior birdcages, chimney stack scaffolds, loading bays, ladder-access towers, free-standing towers, lift shaft towers and putlog scaffolding. A range of TG20 'compliance sheets' is included for these structures.
2. TG20:13 Design Guide. Intended predominantly for engineers and designers, this 206-page document provides technical data, commentary, and source material for use by competent and suitably qualified scaffold designers in circumstances which are outside the scope of standard solutions provided in the TG20:13 Operational Guide and TG20:13 e-Guide software.
3. TG20:13 e-Guide. Designed for Mac, PC and tablet use, making it extremely easy to check scaffolds for TG20:13 compliance digitally, with user-friendly software which will facilitate printing and circulation of details of TG20 compliant structures by email. The TG20:13 e-Guide calculates and prints compliance sheets for TG20 compliant scaffolding. It allows TG20 to incorporate a wide range of scaffolding configurations, and calculates safe heights, tie duties and leg loads.4. TG20:13 User Guide. A 32-page, full-colour pocket guide in A6 format. This document clearly summarises the requirements for TG20 compliant scaffolding and offers indispensable guidance to the scaffolding operative on-site.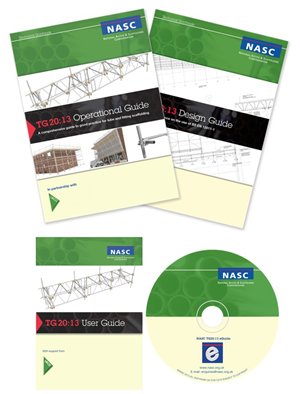 TG20:13 QUOTES: NASC & Construction/H&S Industry
NASC Managing Director, Robin James commented: "We are very excited about the publication of TG20:13, and appreciate the patience of our members, and the construction industry as a whole, who have been waiting for this product to be finalised. TG20:13 represents a hugely improved, more user-friendly and significantly enhanced technical guidance system. We are confident that our members, and the wider industry, will welcome this innovative product.
"The NASC has invested more than L500k into the research and development of TG20:13. We are confident that it will be a great success and will be positively received by the membership and the wider industry."
NASC President, Kevin Ward added: "Those who have already seen the document have been amazed by the quality of the work. TG20:13 is not a rewrite, it is a completely new suite of documents. The scope of these documents has meant that it has taken longer to complete than was initially hoped. It has though been worth the wait.
"The new version of TG20 sees a 'step change' in our industry with regard to the design of tube and fitting scaffolds. In future our clients will be expecting either a site specific 'TG20:13 compliance sheet' or a 'full temporary works scaffold design' to be submitted as part of a scaffold plan prior to the commencement of any works, and the HSE will also be looking for this."
NASC Immediate Past President, Rob Lynch said: "We are all very positive about TG20:13. The new e-Guide is especially exciting. It was a risk we took developing this, but it's exceeded all our expectations. We believe that the TG20:13 e-Guide will be an essential tool for every site manager and safety consultant, and will provide an accessible and reliable reference point for assessing the safety and compliance of scaffolds."
Heather Bryant, HM Chief Inspector of Construction for the Health & Safety Executive (HSE) said: "Falls from height remain the dominant cause of fatal and serious injuries in the construction industry. Properly designed and constructed scaffolding has a key role to play in reducing that toll of injuries.
"HSE is pleased to acknowledge that the NASC has written TG20:13 to provide a standard for traditional tube and fitting scaffolds to help industry manage safety risks effectively in the scaffolding and wider construction sector."
Stephen Ratcliffe, Director, UK Contractors Group (UKCG) said: "We applaud and support the work of the NASC which will no doubt result in safer scaffolding structures being installed and thus reduce the frequency of scaffolding failures, which at present occur far too frequently across the industry.
"The UKCG recommend the adoption and standardised use of TG20:13 to the wider industries that utilise scaffolding structures both within and outside the construction sector."
Those wishing to purchase a copy of TG20:13 should consult the publications section of the NASC website www.nasc.org.uk or email sales@nasc.org.uk or call 020 7822 7400.
Further information and TG20:13 auxiliary material is also available via the NASC's social media channels:
Facebook: www.facebook.com/NASCscaffolding
Twitter: www.twitter.com/NASCscaffolding
YouTube Channel: www.youtube.com/user/NASClondon