TG20:13
The new TG20:13 'Suite' of guidance is supported by CISRS, BuildUK, HSE and CITB, and takes the form of four distinctive publications, including two comprehensive A4 books and innovative new software known as the TG20:13 e-Guide, together with a pocket-sized User Guide.
TG20:13 Good Practice Guidance for Tube and Fitting Scaffolding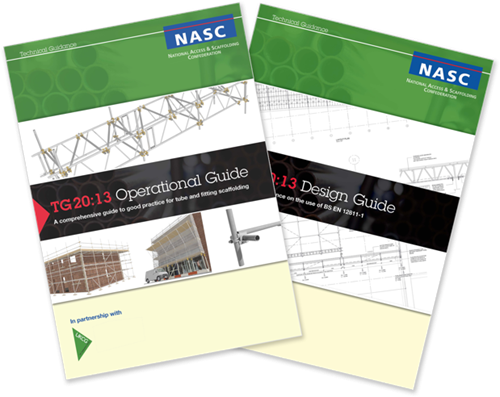 1. TG20:13 Operational Guide A full-colour, brand new, 224 page guide containing detailed practical guidance for most common types of scaffolding supported by structural research and calculations. Guidance is provided for an expanded range of structures which includes independent scaffolding, interior birdcages, chimney stack scaffolds, loading bays, ladder-access towers, free-standing towers, lift shaft towers and putlog scaffolding. A range of TG20:13 'compliance sheets' is also included for these structures.
2. TG20:13 Design Guide Intended predominantly for engineers and designers, this 206 page document provides technical data, commentary, and source material for use by competent and suitably qualified scaffold designers in circumstances which are outside the scope of standard solutions provided in the TG20:13 Operational Guide and TG20:13 e-Guide software.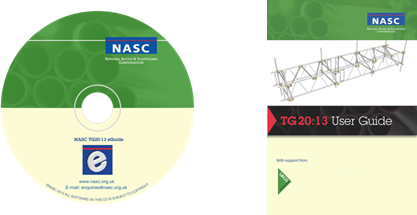 3. TG20:13 e-Guide Designed for Mac, PC and tablet use, making it extremely easy to check scaffolds for TG20:13 compliance digitally, with user-friendly software which will facilitate printing and circulation of details of TG20:13 compliant structures by email.
4. TG20:13 User Guide A 32 page full colour pocket guide in A6 format, this document clearly summarises the requirements for compliant TG20:13 scaffolding and will offer indispensable guidance to the scaffolding operative.
To place your order for TG20:13 please visit our Online Shop

Structural Requirements and Test Procedures for TG20 Compliant Prefabricated Structural Transom Units