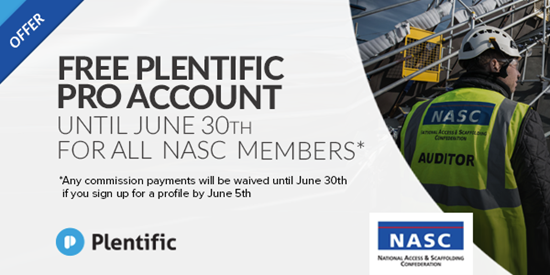 The NASC and Plentific announce online agreement to promote the use of regulated scaffolding contractors
The NASC has entered an agreement with leading property platform Plentific to promote the use of regulated scaffolding contractor members to the construction industry and wider markets.
www.plentific.com is a fully-integrated platform for property projects, enabling users to find scaffolding contractors and other property specialists for their housing projects.
And the NASC has just created a profile on the national website service to support homeowners, property developers and the wider industry in their search for reliable scaffolding contractors. NASC members will be able to create and promote their business profiles on Plentific for free, and clients will contact members with projects via the platform.
The Plentific business model means that there are no upfront marketing costs, as a small commission fee is charged only on those projects which are successfully completed. Plentific, which stands for 'plenty' of 'fantastic' resources, launched in April 2014 and is working with hundreds of professionals to aggressively build out its offering to homebuyers, property investors and entrepreneurs.
NASC Managing Director Robin James said: "This partnership with Plentific will increase awareness of the high quality work delivered by NASC members in the construction industry – setting the standard for safe, compliant and regulated scaffolding. And this partnership represents a great opportunity for the 200+ NASC contractor members to promote their scaffolding operations on a popular property portal."
Plentific co-founder Cem Savas said: "Connecting our clients with the best specialists is what we do. Knowing that a scaffolding contractor is an NASC member reassures our users that their chosen professional will manage their project to the highest standard in accordance with industry best practice."
To obtain details about becoming an NASC member and to find out more about the NASC, the UK scaffolding industry trade body, visit www.nasc.org.uk or email: enquiries@nasc.org.uk. And to find out more about Plentific, visit www.Plentific.com.