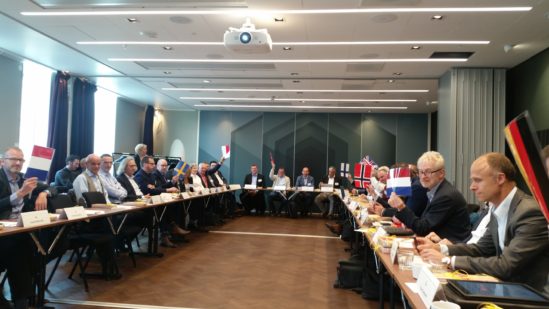 13.10.17
UEG Annual General Assembly in Stockholm, Sweden
NASC participated in the UEG Annual General Assembly at the Scandic Continental hotel, Stockholm on Friday 13 October 2017. The event was hosted by the Swedish scaffolding organisation (STIB) and the event was attended by 52 delegates.
UEG (Union Europaischer Geruestbaubetriebe) is the umbrella organisation for European national trade bodies in the access and scaffolding sector, and NASC represents the interests of the UK scaffolding industry on the group.
UEG President Martin Angele (SGUV/Switzerland) reviewed UEG activities during 2017, noting the activities of the UEG European Regulations Working Committee and the recent publication of practical guidelines for scaffolding contractors.
Herr Angele then looked forward to a full programme of activities in 2018 which would include a UEG panel discussion in June, where the focus would be on CEN TC53 and scaffolder training. He also noted that risk assessment guidelines would be developed by UEG during the year.
An application for membership from the Federation des Entreprises de Construction d'Echafaudages (FECEL/Luxembourg) was approved at the assembly, bringing the total number of national organisations represented on UEG to ten.
Additionally there are ten UEG associate members representing principal supplier organisations in Europe. Further applications for both UEG membership categories are anticipated in 2018.
Next year's UEG General Assembly will take place on 12 October 2018 and will mark the tenth anniversary of UEG since the inaugural assembly took place in Potsdam in 2008. NASC is a founder member of UEG.
For further details see www.ueg-eu.org