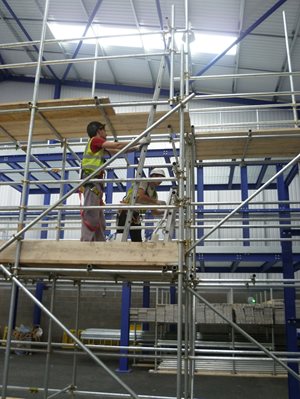 WATA receives CISRS accreditation
West Anglia Training Association (WATA) of Huntingdon, Cambridge has become the latest training provider to gain Construction Industry Scaffolders Record Scheme (CISRS) accreditation.
Following successful completion of their CISRS accreditation audit which took place in early June, WATA can now offer the following courses: CISRS Part 1 Scaffolding, CISRS Operative Training Scheme (COTS), Basic Scaffold Inspection Training Scheme (SITS), and they are also looking to offer several System product courses in the near future.
A brand new purpose built practical training area has been erected at their site at Huntingdon, Cambridgeshire. It is fitted out to the highest specification using what the experienced staff at WATA feel are the most effective and efficient ideas for layout, training structures etc. that they had witnessed whilst visiting or working at other approved training providers.
Dave Mosley CISRS Scheme Manager said: "WATA's commitment to the CISRS scheme is reflected in the investment and drive they put into producing this high quality facility. Only six months ago on my first visit to the proposed site it was just a field with a few rabbits running around, in the very short time since that visit they now have an excellent centre in which to deliver CISRS training."
The other facilities within the campus are of equally high quality, the classrooms, on site canteen and welfare provision will all make for a very conducive atmosphere for learning.
WATA will also offer Scaffolding Apprenticeships, which will be welcomed by the industry as there has been very high demand for apprentice places of late.
The Centre has managed to secure some additional funding and as such are currently able to offer CISRS training at a subsided rate. For more details on this you should contact the centre directly tel. 01480 435544 or email info@wata.co.uk
Chief Executive Officer Nigel Donohue said: "We are delighted to have gained our initial CISRS accreditation at WATA, we have a great facility here and very experienced staff and it is our intention to add to the suite of CISRS courses we offer with Part 2 and Advanced Scaffolding as soon as the scheme rules allow."
For further details about all CISRS accredited training centres, tube and fitting and system scaffolding CISRS courses, or for information about any of the scaffolding training courses on offer, please visit www.cisrs.org.uk or email enquiries@cisrs.org.uk.